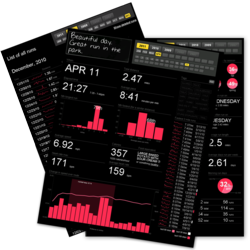 Active users run over 60% more miles and over 80% more days in the 3 months after joining Smashrun than in the 3 months before.
Santiago, Chile (PRWEB) January 12, 2012
Smashrun, a current participant in Start-Up Chile, launches a sleek, intuitive website designed as a powerful companion for Nike+ users. Offering an elegant alternative to the oft-criticized Nike+ site, Smashrun's free web-based platform creates rich visual dashboards that are tailored and prioritized, providing runners with a "big picture" snapshot and a "by run" specific analysis of years of running history.
In 2006, Nike revolutionized the personal data tracking industry with the introduction of the Nike+ sensor. Millions of runners adopted the device as they quickly discovered its power to motivate. By transforming data into attractive, shareable dashboards, Smashrun takes that motivational power to the next level.
"The result is pretty amazing," says Smashrun founder Chris Lukic. "Because our users import their past running history into Smashrun, we can see how much they ran before joining and how much they ran after." That data reveals the startling impact of using the website. Active users run over 60% more miles and over 80% more days in the 3 months after joining Smashrun than in the 3 months before.
"I was fascinated by the addictive power of video games," Chris continues. "It seemed amazing to me that someone could spend endless hours playing a game like Farmville or Happy Aquarium. I wanted to know how a task as tedious as watering a plant, or feeding your fish could be so compelling. What I discovered was that the magic of these games is the way they reward and demand progress." That insight informs every design decision that went into Smashrun.
We've engineered:

An attractive and easily shareable dashboard (here's Chris' running stats)
Badges that serve as milestones for running achievements
Daily ranks – for discipline, speed, and distance
Social sharing mechanisms and follower relationships
The result is multiple layers of reinforcement that are far more powerful than any video game, because the rewards are not just virtual. As users level up their Smashrun stats, so do they're fitness level.
Smashrun is currently integrated with Nike+ and supports manual run entries. New users should register on Smashrun.com to get a new perspective on running. For updates: follow us on Twitter or Facebook.
Smashrun is an analytical web-based dashboard for runners. It began as a personal project in late 2009 and has since grown to include users from over 100 countries. Smashrun is based in Brooklyn, NY and currently in Santiago participating in Start-Up Chile.
For more information, please contact Jacklyn Giron at +56 (9) 6661 7144 (Chile)/ +1 917 267 7826 (New York) or at jacklyn(at)smashrun(dot)com
###