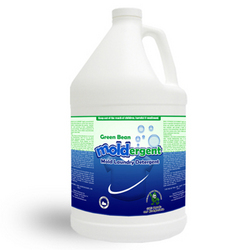 Our Green Bean customers have been really wanting a safe laundry detergent liquid to help them with mold, we simply got our chemists together and made it happen.
Fort Launderdale, FL (PRWEB) March 6, 2009
An infestation of mold spores can collapse their touchy-feely tentacles onto any damp laundry. Within only a weeks time, mass production by mother nature herself can impose a dangerous threat to soccer moms all over the world. Mold amplification in laundry and clothing is not entirely banished with most brand laundry detergents as the CEO of MyCleaningProducts.com will explain.
In order to escape the clutches of mold spores and fungus in one's laundry, MyCleaningProducts.com has released a new laundry detergent liquid that has been added to their Green Bean Cleaning Products Line.
Moldergent came into mass production last week, until now their entire Green Bean line focused on unique green cleaning products to clean the home. As the CEO explained, "Our Green Bean customers have been really wanting a safe laundry detergent liquid to help them with mold, we simply got our chemists together and made it happen."
The idea is nothing new, hospitals have been backed into a corner desperately trying to find a new class of of extremely, safe, non-toxic detergents to remove viruses, bacteria, spores, molds, and fungus from clothing and laundry machines. The release of this green product has now blossomed into families as the official mold liquid laundry detergent.
The same reasons why most laundry detergents may impact skin irritations, it simply may be from allergenic reactions from mold and the harsh chemicals compounded together in most brand name laundry detergents.
Markus Skupeika, CEO of MyCleaningProducts.com stated, "Today's health care facilities laundry detergent liquids were not able to effectively remove contaminants, so personnel would rely on using very piping hot water when washing hospital gowns, scrubs, sheets, uniforms aprons, etc.
In order to seize the amplification of mold, mildew, viral and bacteria related illness. Hot water and normal brand laundry detergent could NOT accomplish the level of cleaning required.
Not only that, use of extreme hot water only serves to raise the costs of energy consumed by health care facilities.
Moldergent, 100% natural laundry detergent liquid removes these molds, bacteria, fungus related specimens without the assistance of heat.
This is enables facilities and your home to launder items in cold water, reducing painfully high energy costs."
Also, formulated in this Moldergent laundry detergent is the infusion of earthy ingredients. All of MyCleaningProducts.com green cleaning products are infused with ingredients, which the CEO claims, no other large corporation CEO's would dare to trek to remote locations of the world to find.
Markus has trekked his way to remote locations around the globe to find ingredients which he and his team can infuse into his cleaning products. For the main purpose to improve wellness, release stress, and energize one's home and self.
Markus stated, "By bustling new earth ingredients found in the mountains of Peru and jungles of Brazil, their are herbal ingredients which can release an amazing fragrance of feel-good mentality.
Putting these earthy materials in our formulas, our mission is to turn our customers home into a place of zen and relaxation, simply like a hot steaming lavender bubble bath that one sits in for hours on end."
MyCleaningProducts.com is determined to make sure homes around the globe are clean and you are inspired with feelings of relaxation, energy, and tranquility from their Moldergent laundry detergent and Green Bean natural cleaning products.
Optimal Chemical Inc. is a green cleaning products manufacturer. They have released it's Moldergent laundry detergent liquid to the public in it's natural cleaning products online store MyCleaningProducts.com, after it's huge success rate in hospital facilities.
Optimal Chemical Inc. opened it's online store of natural cleaning products in 2005. Quickly adapting to the changes of Green, OCI was already ready mutating it's product line to becoming the leading green cleaning products manufacturer in the South Florida.
For more information on their green line, visit their green cleaning products store online.
Feel free to follow them on TWITTER to see their latest updates and news... Optimal Chemical would love to add a few more Green Bean members to the world.
https://twitter.com/OptimalChemical
###