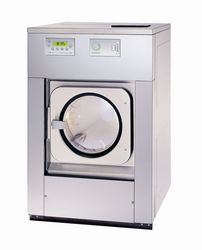 (PRWeb UK) May 19, 2010
B&Bs and hotels need to ensure they have hygienically clean laundry to maintain guest satisfaction and enhance room presentation. But washing machines are a major consumer of resources – power, water and chemicals – and hence a major factor in profit and loss calculations.
Advance Laundry Equipment has introduced the intelligent Grandimpianti 400 washer, designed to offer users significant savings in running costs. The G400 features a dynamic weighing system (DWS) that weighs every wash, calculating the water, power and detergent needed for optimum washing results.
The operator doesn't need to do anything except load the washing - the machine automatically adjusts the inputs and ensures there is no wastage or over-consumption. Savings of up to £1513 per year can be made with an 18kg washer.
Built to withstand the commercial environment, the G400 washers have a wipe clean stainless finish on all panels and a 5000 cycle warranty on bearings. Rugged, easy to use controls give a fully programmable, one-touch operation.
The G400 is available in 8kg, 11kg, 18kg and 26kg models and Advance offers a full one year parts and labour warranty as standard.
Advance Laundry Equipment is part of the Advance Group. For more information on the Grandimpianti range and the Opura system contact Advance Laundry Equipment on 0800 597 7427 or visit http://www.advancegroupuk.co.uk.
G400 DWS – May-10
Press Enquiries:
Toni Turner or Alison Haynes at The Publicity Works
Phone: 01263 761000; email:
Luke Boxall at Advance Group: 0800 597 7427
###