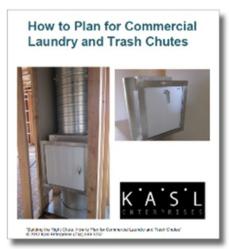 The guide will help general contractors, architects and others make the best choices.
Belleville, MI (PRWEB) November 16, 2012
Kasl Enterprises today released "Building the Right Chute: How to Plan for Commercial Laundry and Trash Chutes," a free guide packed with practical tips about how to effectively use laundry chutes and trash chutes in commercial buildings.
The guide has many suggestions that range from recommended linen chute sizes to options that can limit the sound.
"We've encountered many different scenarios with hotels, hospitals and other buildings," said Kasl Enterprises President Tom Powers, who has supported the construction industry for 40 years. "The guide will help general contractors, architects and others make the best choices as they work to be sensitive to clients, guests, residents and patients while also helping employees be as productive as possible."
Get the free guide here:
http://www.kaslweb.com/laundry-chutes-guide.html
Tips include:
1. Linen chute intake doors can have a left or right hand hinge depending on the location of the chute in the room. It just takes a little bit of planning to make the right decision for your building.
2. On a weekly basis, you should use the wash down sprayer on the top floor of the trash chute. Take full advantage of the optional sanitizer that sprays disinfectant and cleaner on the chute to keep it clean.
3. In some cases, consider electric interlocks, which allow only one door to be opened at one time. For this option, the discharge door should be wired to ensure that the intake doors are locked if the discharge door is closed.
About Kasl Enterprises, Inc.
The company has been in business for over 40 years. We sell and install trash and linen chutes in apartment buildings, hospitals, hotels and office buildings. As part of our service, Kasl Enterprises, Inc. has an inventory of parts available for repair to most all manufacturers of trash chutes and linen chutes. We also sell trash compactors, mailboxes and more.
We have also been involved in large hospital complexes, hotels, casinos and apartments throughout the United States. Our chutes are located in various facilities in cities such as Albuquerque, NM, Denver, CO, Baton Rouge, LA, Raleigh/Durham, NC, Pacific Palisades, CA, Kissimmee, FL, Detroit, MI, and Richmond, VA – just to name a few. The tallest building we have worked on is the 75-floor Renaissance Center Hotel in Detroit, Michigan.
Would you like to learn more? Call 734-699-3232 or contact us at kasl (at) kaslweb (dot) com