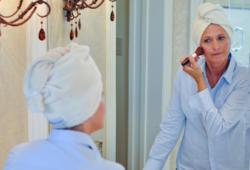 An average person sheds nearly 9 pounds of dead skin cells each year. Most of it ends up on clothes, sheets and towels!
Butler, PA (PRWEB) March 08, 2012
Regular bathing habits are an essential part of a person's routine. From babies to the elderly- keeping clean is a "must do" but are we doing it right? According to the Boston Globe, an average person sheds nearly 9 pounds of dead skin cells each year. Most of it ends up in clothes, sheets and towels! What can you do about?
Below are 5 tips to keep your bath towels and bodies clean and fresh.
1. Pay attention to Water Temperature when washing both towels and bodies. Your hair, skin and water bill will all benefit from showering with warm water. Towels on the other hand, should be washed in the hottest setting possible to kill bacteria and dust mites.
2. Exfoliate at least 2-3 times/week. This will aid in the removal of dead skin cells and keep skin clean and glowing from head to toe. If you use a washcloth, be sure to get a fresh one each time.
3. Use Two towels or better yet be eco-conscious and grab one bath towel and one Turbie Twist to dry off. Stop spreading the dead skin cells from your body onto your clean hair! Use a separate towel for hair to avoid the transfer of bacteria and skin onto the scalp. The Turbie Twist is the perfect way to dry hair and keep it clean! It also hangs dry between uses.
4. Moisturize daily with lotion according to skin type. Too much scrubbing can dry and irritate skin. Moisturize soon as soon as possible after bathing to maximize effectiveness.
5. Launder body towels as frequently as possible and do not use the same towel more than 3 times between washings. The rubbing effect of drying off continues to remove dead skin cells and they get trapped in the towel. Give skin a break by using a gentle patting motion or even better- air dry!
Hint: When towels get musty, reach for vinegar instead of bleach - add about a cup of vinegar with your regular detergent, it will kill bacteria without the fear of bleaching. Avoid the musty smell all together by drying towels right away since moisture contributes to bacteria growth.
Refresh your linen closet with new Body Towels and Turbie Twists from retailers like: Bed Bath and Beyond, Meijer and QVC.
To learn more about Turbie Twist visit http://www.TurbieTwist.com and find us on Facebook, Twitter, and Youtube.
About Turbie Twist, LP
Turbie Twist, LP is the sole manufacturer and distributor of the Turbie Twist® hair towel. The Turbie Twist® is smaller and easier to use than an ordinary bath towel that simply falls off.
The Turbie Twist® is a revolutionary product that allows one to be the ultimate multi-tasker while drying their hair. It's unique twist and loop system makes it the hair towel that stays in place. Featuring a tapered design the Turbie Twist® allows for a perfect fit on all head sizes. It allows users to get dressed, apply make-up, and check email - all while drying their hair.