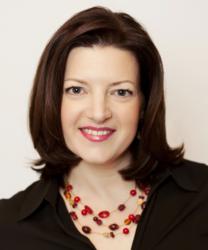 I am honored to serve on the Board of Directors of the Central Bucks Rotary. I believe strongly in Rotary International's motto, 'Service Above Self.'
Doylestown, PA (PRWEB) November 23, 2011
Laura Powers, Vice President of Marketing for strategic planning, marketing and public relations agency Furia Rubel, has been appointed to the Board of Directors of the Central Bucks Rotary. An active member of the Bucks County community, Powers is engaged in outreach with regional, national and international communities through the Central Bucks Rotary, an affiliate of the service organization, Rotary International.
"I am honored to serve on the Board of Directors of the Central Bucks Rotary. I believe strongly in Rotary International's motto, 'Service Above Self,' and look forward to contributing even more to the organization's decisions and operations by serving on the board," said Powers.
Central Bucks Rotary is part of Rotary International, the world's first service club organization, founded in 1905. Its members volunteer their time and talents on every continent to further the Rotary motto, "Service Above Self." The Central Bucks Rotary has supported local organizations including The Bucks-Mont Katrina Project, Big Brothers/Big Sisters of Bucks County, Livengrin Foundation, The Central Bucks YMCA and many others. The next upcoming event for the organization is Ride for the Heroes on May 20, 2012. To learn more, visit http://www.centralbucksrotary.com.
A past president of the Women's Business Forum of Bucks County and the Kalmia Club in Lambertville, N.J., Powers is now a trustee of both organizations. She is also the Committee Co-Chair for the Central Bucks Chamber of Commerce Bucks Fever FilmFest.
Powers is a savvy marketing strategist who develops award-winning campaigns that create continuity of brand, Web, print, promotions and public relations. She works closely with Furia Rubel clients to identify their unique strategic messages and deliver those messages creatively and effectively. As Vice President of Marketing, she oversees a broad range of marketing and promotion execution, including the development of corporate identities, interactive and fully content-managed websites, direct mail campaigns, constituency reporting tools such as annual reports, sales tools such as company catalogs and product/service brochures, as well as target audience communications such as newsletters, blogs, niche websites and e-marketing tools.
A sought-after speaker, Powers frequently presents programs addressing website strategies, improving search engine results, LinkedIn, Facebook and Twitter for professionals, and effective use of websites and social networking strategies. Together with Furia Rubel President Gina Rubel, Powers often presents "Social Media for Business – an Integrated Approach to 21st Century Marketing and PR." Among her many accomplishments are the prestigious Communicator Award of Excellence from the International Academy of Visual Arts, Web Marketing Association's Web Legal Standard of Excellence Award and the Summit Creative Award.
About Furia Rubel: Celebrating its 10th year in business in 2012, the woman-owned certified agency consists of specialists who provide strategic planning, marketing, public relations, graphic design, websites, social media and media relations to a wide array of professional clients. Furia Rubel represents law firms, technology companies, educational and religious organizations, financial service, accounting and tax providers, nonprofits, pharmaceutical, manufacturing and elder care companies. For more information about the company, visit http://www.furiarubel.com.
###