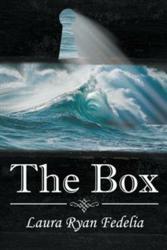 "I want readers to feel as if they were side-by-side with Pan after reading this book," says Fedelia.
DERRY, N.H. (PRWEB) May 15, 2013
In "The Box" (published by Abbott Press), author Laura Ryan Fedelia's new novel, readers join Pan Blair as she realizes that she is not the quiet, meek introvert she thought she was.
Pan Blair has been a stay-at-home mom since her first child greeted the world; she now has three. She has chosen this lifestyle because, quite frankly, she does not enjoy interacting with humanity. She finds the whole process completely pointless and exhausting. However, when one of her husband's schemes finally pushes her past her breaking point, she decides it is time to start living her life.
Pan accepts a management position at a bookstore, but this simple lifestyle change proves to be a little more than she was ready for. With each passing day, she faces a gauntlet of physical, emotional and ethical trials. But, with each challenge, she learns a little more about herself.
When Pan finally realizes that she is the fabled Pandora of Greek legend, her life is turned on its head. Now, she must battle Zeus so that she can fulfill her destiny – to unleash the gifts of the gods upon humanity. But, Zeus has other plans.
An excerpt from "The Box":
"'She is gone then?' Zeus asked, in a tone far too calm. Prometheus answered his uncle snidely, 'Pandora is an obedient wife.' Bristling at his choice of adjective, I made a break for it, bent double over the box, staying well away from the path. Hemming deeply, Zeus dragged a weary hand over his face, then took Fire from Epimetheus. 'The box is gone then, is well beyond the Grove?' 'Well beyond," Prometheus' voice sounded strangely muffled, listening to it with his own ears. 'And I suppose there would be no point in trying to flush her out by torturing you?' Prometheus snorted. 'This will be just for fun, then.' With that, he lowered Fire into the jumble of grass and meadow flowers gathered around the foot of the tree."
"I want readers to feel as if they were side-by-side with Pan after reading this book," says Fedelia.
"The Box"
By Laura Ryan Fedelia
Hardcover | 6 x 9 in | 326 pages | ISBN 9781458208101
Softcover | 6 x 9 in | 326 pages | ISBN 9781458208118
E-Book | 326 pages | ISBN 9781458208095
Available at Amazon and Barnes & Noble
About the Author
Invariably shortest and last in every class, Laura Ryan Fedelia developed a healthy inferiority complex early on. Though picked on by teachers, peers and passing waterfowl, Laura learned that she could always be the hero in her own imagination. "The Box" is the physical representation of that discovery.
Abbott Press, a division of Writer's Digest – the oldest and most respected publisher devoted to the education and advancement of writers – is an indie-publishing imprint dedicated to helping writers bring their literary vision to print. Author Solutions, Inc., a leader in indie book publishing, will fulfill publishing, sales, and marketing services for Abbott Press. For more information, or to begin publishing a book today, log on to abbottpress.com or call 866-697-5310.