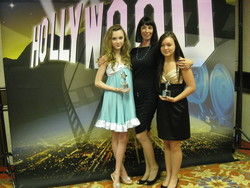 "It was a tie! For the first time Laurel Springs shared the award between two girls with an important message."
Ojai, CA (PRWEB) April 14, 2010
Laurel Springs School, the accredited, college preparatory private school offering distance learning for students in kindergarten through 12th grade, celebrates its students at the 31st Annual Young Artist Awards held April 11 at the Beverly Garland Holiday Inn Hotel in Studio City, California.
Laurel Springs School awarded two young women with the Laurel Springs Young Artist Merit Scholarships. The awards went to Laurel Springs eighth grader, Constance Owl of North Carolina and to Laurel Springs eighth grader, Victory Van Tuyl of Marietta, Georgia. Marilyn Mosely Gordanier, founder and director of Laurel Springs School said, "It was a tie! For the first time Laurel Springs shared the award between two girls with an important message. We were so impressed with the entries from Constance Owl and Victory Van Tuhl that we decided to share the scholarship with two deserving and talented young women."
Laurel Springs Young Artist Merit Scholarship recipient, Victory Van Tuyl is a 14 year-old student at the Laurel Springs Academy for the Gifted and Talented. She can sing, dance and act! In fact she won a talent competition for acting and then discovered singing. She's already an accomplished actor. She has had the lead in three movies in the last three years, and supporting roles in a dozen others. Victory is thrilled to have been cast in the lead role "Caty" in "There's Magic in the Forest", a film which is being produced by Story Point Media and directed by Jon Menick. It was filmed in and around the historic Cradle of Forestry in the Pisgah Forest in North Carolina in June, 2009.Victory is an avid reader, likes shopping, music, her phone, and texting her friends. Even though her main interests are singing and acting, she also loves to run, play basketball and volleyball. Victory is also a hero to some. She is starting a library for underprivileged kids in Atlanta using all of her own books.
Laurel Springs Young Artist Merit Scholarship recipient, Constance Owl is a 13 year-old Native American actress from Western North Carolina. She is an enrolled member of the Eastern Band of Cherokee Indians and an eighth grade student at Laurel Springs. She has been a professional child actress since the age of eight, and has worked in film, television, radio, and on the Equity theater stage in numerous productions. Constance has seen first hand the difficulties faced by Native American actors and hopes in the future to dedicate her assistance and encouragement of this under-represented minority in the entertainment industry. She would aspire to do so by providing quality training opportunities and financial resources for young Native American actor's so that they too, could attain their goals.
Laurel Springs School offers congratulations to all current and former Laurel Springs student nominees who have shown exceptional talent in movies and sitcoms:
Chloe Grace Moretz – "(500) Days of Summer"
Cole and Dylan Sprouse – "The Suite Life of Zack and Cody"
Diandra Newlin – "Dreamkiller" and "It Seems Like Yesterday"
Emily Osment – "The Haunting Hour: Don't Think About It"
Emily Rios – "The Blue Hour"
Emma Roberts – "Hotel For Dogs"
Erin Sanders – "Madmen"
Evan Rachel Wood – "Across the Universe" and "King of California"
Hayden Panettiere – "Heroes" and "Shanghai Kiss"
Isabelle Acres – "Dr. Seuss, Horton Hears A Who" and "The Mentalist"
Josh Hutcherson – "Journey to the Center of the Earth"
Kirnan Shipka – "Mad Men" and "Squeaky Clean"
Kirsten Stewart – TheTwilight Series"
Kristin Herrera – "Freedom Writers"
Makenzie Vega – "The Good Wife"
Miranda Cosgrove – "iCarly" and "Merry Christmas, Drake and Josh"
Malcolm David Kelley – "Lost"
Nate Hartley – "Zeke and Luther"and "Hannah Montana"
Patrick Casa – "Amazing Stories – The Michael Jackson Story"
Rory Culkin – "The Night Listener"
Ryan Casa – "The Colony"
Sammi Hanratty – "Pushing Daisies"
Sofia Vassilieva – "Medium"
Taylor Atelian – "According to Jim"
Jennifer Love Hewitt, Elijah Wood, Lindsay Lohan, Thora Birch, Bow Wow, Raven Symone, Jeremy Suarez, Scout Taylor-Compton, Scarlet Pomers, Sammi Hanratty, Sara Paxton, Jena Malone, Hallee Hirsh, Joanna "Jo Jo" Levesque, Miko Hughes, Danielle Keaton, Trevor Morgan, Lauren Collins, Tyler Posey, The Restaneo sisters, The Dedek twins, Sean Hanley, Ryan Heinke, Adam Cagley, Kyle Swann, Thomas Dekker, Monet Lerner…and many more.
About Laurel Springs School:
Laurel Springs School, founded in 1991, is an accredited, college prep private school offering distance learning programs and teacher services for students in grades K-12. Located in Ojai, California Laurel Springs serves students across the United States and in 43 countries. Laurel Springs uses web-based communication tools, a standards-based curriculum, and personalized instruction to offer students the highest quality home education experience. Laurel Springs offers gifted and talented students an alternative to traditional schools and an opportunity to become part of a thriving online community.
laurelsprings.com
###