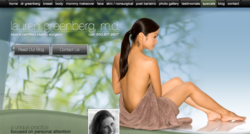 (PRWEB) May 27, 2011
Dr. Lauren Greenberg is dedicated to providing a safe and effective avenue to making significant lifestyle changes through cosmetic enhancement. As a plastic surgeon in Palo Alto and a prolific blogger, she recently addressed the need for a collaborative approach to aesthetic enhancement, in which both patient and doctor assume responsibility for the overall success of any procedure. The post is entitled, "Patient Responsibility in Surgery – You and I are a Team," and offers what Dr. Greenberg defines as a simple plastic surgery contract, which is inspired by a post from the National Institutes of Health (NIH).
In the post, Dr. Greenberg first outlines her duties as a plastic surgeon. She says one of the most important aspects of the patient-doctor relationship is creating a one-to-one connection, which depends entirely on establishing an open line of communication. Dr. Greenberg adds that her role as an educator is extremely important to meeting a patient's expectations and cosmetic enhancement goals, whether they are considering surgical procedures such as liposuction or breast augmentation, or nonsurgical enhancement with BOTOX Cosmetic ® or dermal fillers.
Dr. Greenberg finishes by outlining the specific responsibilities she would include in a patient contract. However, she says regardless of whether patients sign an explicit form or simply agree to implicit terms during the initial consultation, honest and open communication is the most important element of the entire process. Even as she explains her need to address goals from a blunt, realistic perspective, she says she ultimately believes a unified approach offers the greatest chance for a successful procedure.
About Dr. Greenberg
Lauren Greenberg earned her medical degree from Northwestern University Medical School. She then completed her general and plastic surgery residencies at Stanford University, as well as a fellowship in breast and cosmetic surgery in Nashville, TN. Dr. Greenberg is a member of the American Society of Plastic and Reconstructive Surgeons, the Santa Clara County Medical Association, and the California Medical Association.
Dr. Lauren Greenberg's plastic surgery practice is located at 750 Welch Rd. Suite 117 in Palo Alto, CA 94304, and can be reached at (650) 617-9907, or found online at http://www.laurengreenbergmd.com or the Lauren Greenberg, M.D. – Cosmetic Plastic Surgeon Facebook page.
###