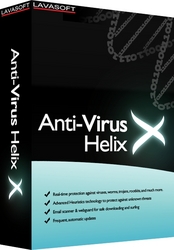 Our customers have been asking for anti-virus protection from our company for years. We recently answered that call by integrating anti-virus into our flagship anti-spyware program, Ad-Aware. We now also offer an individual anti-virus tool for the niche market of savvy customers who insist on having stand-alone security tools versus security suites
Gothenburg, Sweden (PRWEB) December 16, 2008
Well-known anti-spyware pioneer Lavasoft today announced the global release of Anti-Virus Helix, a stand-alone security tool designed to address the rapidly changing malware landscape. This new product delivers comprehensive protection and high performance with low impact on system resources. Using advanced heuristic technology, it offers superior detection rates, guarding against over 1.5 million known threats, along with unknown, emerging, and rapidly changing threats, including viruses, worms, rootkits, bots, blended threats and drive-by downloads.
"Lavasoft's primary focus and commitment is, and will continue to be, to protect the privacy of computer users with high-quality security solutions," says Lavasoft CEO Jason King. "Our customers have been asking for anti-virus protection from our company for years. We recently answered that call by integrating anti-virus into our flagship anti-spyware program, Ad-Aware. We now also offer an individual anti-virus tool for the niche market of savvy customers who insist on having stand-alone security tools versus security suites," says King.
Award-Winning Anti-Virus Technology
Developed in collaboration with a leading anti-virus technology partner, and 20 years of virus research, Lavasoft Anti-Virus Helix is designed to address the explosive growth of today's cyber threats by offering superior detection rates and real-time protection.
Advanced Heuristic Analysis and Detection
Lavasoft Anti-Virus Helix features advanced heuristics technology to detect and guard against unknown or rapidly changing attackers. The heuristics looks at the characteristics and the code sequences of the file to determine whether or not the file is malicious, giving computer users protection against both known threats, as well as against emerging and unknown threats.
High Performance and Low System Resource Usage
Lavasoft Anti-Virus Helix provides extensive threat detection and runs seamlessly with low impact on system resources, with an efficient and easy to use interface.
Integrated E-mail Scanner
Lavasoft Anti-Virus Helix also includes comprehensive protection against e-mail borne threats - one of the most common methods of infection - with an integrated e-mail scanner supporting both POP3 and SMTP.
For more product details, please visit our product page at http://www.lavasoft.com/products/lavasoft_antivirus_helix.php.
Price and Availability
Lavasoft Anti-Virus Helix is available immediately at http://www.lavasoft.com where a 30 day evaluation version can be found as well. It is available with 1, 3, or 5 user license packs, and includes free technical support and software updates throughout the license period. Prices begin at $23.95, with aggressive discounts for multi-user licenses. The press pack is available at http://www.lavasoft.com/company/press
About Lavasoft
Founded in 1999, Lavasoft is "the original anti-spyware company", with over 350 million downloads worldwide for the flagship Ad-Aware product. A private company headquartered in Gothenburg, Sweden, Lavasoft provides security solutions for individual consumers and enterprise clients alike, including anti-spyware, registry optimization, firewall, digital shredding, and encryption. Lavasoft has 4,000 partners in 120 countries.
For further information, please contact Lina Nielsen, Marketing & Communications at Lavasoft.
###