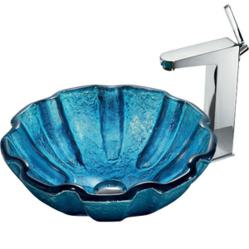 Available in a huge variety of styles, colors, and (often hand-crafted) designs, a vessel sink is the perfect signature touch to give the bathroom a little extra personality.
(PRWEB) September 02, 2012
HomeThangs.com – the Home Improvement Super Store has made their goal to deliver the right product to the consumer, with that in mind, shopping and home design tips, as well as special product selections are being introduced.
Available in a huge variety of styles, colors, and (often hand-crafted) designs, a vessel sink is the perfect signature touch to give the bathroom a little extra personality. More than any other fixture in a bathroom, a vessel sink is an opportunity to insert a little artistic flair and a little designer chic into decor.
With a huge selection of lavatory sinks available, it might be overwhelming for a consumer to find the right one. A selection of signature vessel sinks along with design tips has been introduced by HomeThangs to help the consumers find the type of the sink they would really love.
1. Traditional bathroom sinks either mount underneath the countertop, are integrated inside it, or have a rim that sits around the edge of the opening in the counter. Vessel sinks, on the other hand, sit directly on top of the vanity, and many of them require no more than a 1-3 inch opening for the drain. For example, the elegant Brass Vessel from Legion sits on top of the counter, just like a bowl.
2. Many vessel sinks mimic more traditional sinks, and are made out of porcelain, vitreous china, or sometimes fireclay. But these glossy white vessel sinks are anything but ordinary. Some of them are very thick, adding several inches to the whole surface of the vanity top, like Classically Redefined vessel sink from Decolav for example.
3. Some tend to have a little more flair, and come in a huge variety of shapes, sizes, and thicknesses, some of them really wild and others just a cheeky re-imagining of a traditional sink. For example, the design of the Barclay Cascade vessel is relatively simple, like a twist on an old fashioned wash basin, but the curved edges give it just a little sass.
4. Metal vessel sinks – copper, brass, and bronze – are typically hand crafted with beautiful detailing on both the inside and the outside. These come in a wide variety of shapes and styles, from picture perfect stamped patterned bowls like the Grape Vine copper vessel sink from Artisan to free form modern shapes and patterns. Most importantly, with proper maintenance these sinks will age naturally over time and develop a rich, beautiful, one-of-a-kind patina, which means it will only become more grand and decadent with time.
5. Stone is another common material for vessel sinks, and they come in two basic types. The first are earthy looking sinks like the Xylem Rough Round Stone sink that are typically polished on the inside, but left rough-hewn and natural on the outside, a little like a geode or split stone.
6. The other type of stone vessel sinks are a little more refined, polished on both the inside and the outside for a smooth, finished bowl-shape – granite, travertine, marble, or even onyx, like the Yellow Honey Vessel by Xylem. Each one of these is completely one of a kind, with a natural stone pattern polished to a fine luster, but with a little less variation and none of the rough texture of partially unfinished sinks.
7. Glass vessel sinks come in an almost infinite selection of colors, patterns, shapes, and designs, and each and every one is a unique, hand-crafted piece of art. From the simplest clear tempered glass sinks like the Icicles sink from Vigo to ones with highly detailed scenes hand painted onto the glass, a unique glass vessel sink is really the best way to showcase a little personal flair.
8. Made of colored, tempered glass, glass vessel sinks are designed to be scratch proof and shatter proof, and easily stand up to years and years of daily use and abuse. Even simple textured designs like the Blue Bits Glass Vessel by Xylem have subtle, natural variations – the natural bubbles in the glass or the exact distribution of the coloration, for example – that make each sink unique and beautiful.
9. More elaborate ones like the Livorno Glass Vessel Sink by Vigo have beautiful, intricate patterning designed to catch and beautifully reflect light. Some of them even have subtle metallic elements to enhance the luster of the sink. All brightly colored glass sinks are typically finished to be non-porous, which prevents both staining and fading and can help significantly extend the life of the sink.
10. Because glass is so malleable, not all of them are necessarily simply bowl shaped. For Example, the fun and funky Green Leaf Vessel by Legion is a relatively simple single-colored glass, but is beautifully shaped to look like a bright green spring leaf, veins and all, while still fully functioning as a nice, splash-free sink.
11. The highest end glass sinks are the hand painted ones. Each one is individually crafted, each one is a unique piece of art with one-of-a-kind artisan variations. Depending on the bathroom, the design should capture and reflect the overall aesthetic – the Bamboo Pattern by Legion, for example, would look excellent in an Asian influenced bathroom, whereas a vineyard themed one like the Vineyard Grape Design would make a better pair for an Italian villa or French winery influenced decor.
HomeThangs.com is not only a home improvement superstore, it also provides expert design tips and a comprehensive shopping guide, taking the ideas from professional interior designers, and offering tips to the consumers on how to pick the products to best suit their needs.