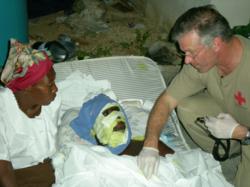 It is such a blessing to be able to provide for the basic needs of vulnerable people from the profits of LAVE MD. Dr. David Vanderpool, CEO of LAVE MD
Nashville, TN (PRWEB) September 15, 2011
Lave MD, http://www.lavemd.com, the Brentwood, TN based varicose vein medical practice of Dr. David Vanderpool donates 250 new school uniforms to Mobile Medical Disaster Relief a non profit disaster relief organization also based in Brentwood, TN. These uniforms will be taken to a primary school and orphanage in a suburb of Port au Prince, Haiti.
Lave MD is a social entrepreneurial based business that was created to fund the non profit organization, Mobile Medical Disaster Relief. Many of the profits from Lave MD go to fund the operational expenses and projects of Mobile Medical Disaster Relief such as providing medical care in disasters, water purification systems in Africa and food in tent refugee camps in Haiti.
Mobile Medical Disaster Relief operates in 14 countries worldwide providing medical care, clean water initiatives and micro finance projects to the most vulnerable people in these developing countries. Mobile Medical Disaster Relief has traveled to Haiti 20 times since the earthquake to provide basic needs to the most disadvantaged people in that disaster ridden country. Dr. David Vanderpool, CEO of MMDR says,"Since children have to have a uniform to attend school in Haiti, it is such a privilege to provide these vulnerable kids with new uniforms".
Lave MD, a social entrepreneur based business, provides the latest treatment for varicose veins utilizing the laser based EVLT procedure as well as the most advanced esthetic services including Laser Liposuction, Laser Hair Removal and Laser Tattoo Removal. Located in Brentwood, TN, Lave MD is a leader in varicose vein treatments and esthetic services. In 2010, Lave MD won the Nashville Business Journal's, http://www.bizjournal.com/nashville/, coveted Health Care Heroes Award for its work in social entrepreneurial issues such as child slavery, disaster relief and women's rights.
###