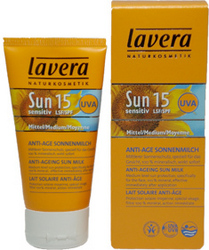 Despite the fact that the cosmetics market has little regulation in the U.S., consumers who purchase Lavera products can trust that they are receiving the best protection available in Europe
Kirkland, WA (PRWEB) December 16, 2009
Summer is here, meaning a growing number of consumers will be looking for natural protection from the sun's harmful rays. But this summer, due to changes in regulations in Europe, consumers will have a more difficult time finding natural sunscreen protection since most manufacturers of natural sunscreen have left the market. But thanks to new distribution on target.com, Lavera -- Europe's top green beauty brand -- is offering a full line of natural sunscreen products, without the harmful ingredients that may affect hormones or even lead to cardiovascular disease
The new European regulations for sunscreens now require certain levels of UVA protection that are challenging to achieve with all natural ingredients, and have caused many European manufacturers including Dr. Hauschka, Weleda and Sante Verde to pull products off shelves. But with natural cosmetics sales worldwide approaching $7 billion and sales of natural and organic cosmetics and toiletries growing at 20 percent a year in the U.S., Lavera remains committed to providing a formulation that meets these new European standards.
"Our new formulation that meets the higher UVA protection requirement will be available for the 2010 sunscreen season. Our sunscreen products will remain 100 percent natural, with no synthetic ingredients. We will continue our commitment to provide consumers with the highest quality products -- minus the harmful ingredients," says Ulrike Jacob, CEO of Lavera.
With a history of more than two decades of innovation in the natural beauty industry, Lavera has developed the technology that allows the company to create natural sunscreen products that adhere to strict guidelines. "Knowing that consumers can trust our brand to both protect them from the sun's harmful rays, but also from harmful ingredients is priceless to us," adds Jacob. "And despite the fact that the cosmetics market has little regulation in the U.S., consumers who purchase Lavera products can trust that they are receiving the best protection available in Europe -- products with organic and natural ingredients free of parabens, synthetic preservatives, petroleum products and other compromising ingredients."
For Spring 2010, the following products will be available at 1200 Target Stores nationwide and at Lavera.com:

Baby & Children Sun Screen SPF 20, 4.1 oz., $24.99 - All-round sunscreen lotion especially designed for the soft skin of children and infants. Pediatrician recommended. Water-proof. UV A, B and C protection.
Anti-Aging Sun Screen SPF 15, 1.5 oz., $24.99 - Daily, light moisturizer offering instant protection for the face, transparent and perfect under makeup! Ideal for all skin types. Witch hazel essences and liquorice extract have an anti-irritating effect. Hyaluronic acid and aloe vera gel provide deeply hydrating effects. A high amount of Vitamin E and C, beta carotene and unsaturated fatty acids provide additional protection.
Sun Spray SPF 30 Neutral, 6.6 oz , $31.00 (available only at Lavera.com)- All-round sun protection for face and body, even for highly sensitive and tender baby skins. Light, fluid formula allows easy application and provides an effective, almost invisible barrier against UVA, B and C rays. Soothing, organic extracts of jojoba and calendula lend gentle moisturizing care. Fresh, floral scent.
Self Tanner for Body, 6.1 oz., $24.99 - Get a safe, natural looking tan without sun exposure! Organic soy extracts provide the active ingredient and are combined with extracts of sugar to deliver a smooth, streak-free application and a natural, even result. Organic jojoba oil, calendula, aloe vera and rose water offer moisturizing benefits.
Lavera was ranked in both 2009 and 2008 as the top natural cosmetic brand in Europe among over 30 competitive brands in rigorous and independent Oeko-Test consumer magazine ratings. Lavera has also been the leader in providing natural sunscreens in the European market, with over 50 percent share in 2008. The first manufacturer worldwide to develop a 100 percent all natural sunscreen and the first all natural sun spray, Lavera has won innovation awards for their SPF 15 and 25 sun sprays.
About Lavera
Since its founding in 1987, the Lavera brand has grown to include more than 300 natural and organic skin care products. Lavera health and beauty products are currently sold in more than 24,000 locations in 25 different countries. Lavera is the market leader in Europe for natural skin care with a 27 percent of the market share in general health and beauty products and a 50 percent market share in sunscreen products. Lavera was recently awarded the title of "Greenest Beauty Brand" by the prestigious OEKO-Test magazine in Germany, beating out 35 other companies. The North American Division was formed in the late 1990s and is headquartered in Kirkland, Washington. For more information on Lavera, please visit http://www.Lavera.com or contact Allison Vennerberg at 651.789.2972.
# # #