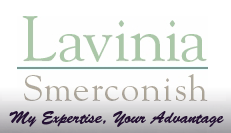 It is my hope that my site will serve as a helpful resource to anyone interested in properties along the Main Line
Mawr, PA (PRWEB) June 12, 2012
Prospective buyers and sellers of Chester County, Montgomery County or Delaware County real estate can now access a new online resource, LaviniaSmerconish.com. Recently launched by Lavinia Smerconish, one of the Main Line's most well-known and respected real estate professionals, the new website offers a comprehensive look at the finest homes currently available in the region.
"It is my hope that my site will serve as a helpful resource to anyone interested in properties along the Main Line," says Smerconish, "whether they're in the market for Chester County homes for sale or they want to get an overview of the properties in the region as a whole."
LaviniaSmerconish.com not only provides access to Smerconish's own detailed property listings, such as Montgomery County, PA real estate, it also has a completely customizable property search tool as well as a regularly updated schedule of open houses in the area. It also has a wealth of other features that users will doubtless appreciate, including mortgage and loan payment calculators, links to the various public and private schools here, and more.
"The site was built to provide users not only with access to relevant information, but also to give them a better online experience altogether," she says. "The vast majority of homebuyers turn to the internet first for real estate information, but often whatever they find is fragmented or out of date. Through the new site, they can now find whatever they need all in one place—and they can be assured that it's reliable, too."
Smerconish has been specializing in real estate in the Main Line for over 15 years and has been a leading Main Line, PA Realtor for most of her career. As a lifelong resident of the Main Line area, she has an insider's insight not only on the housing market here, but also of the different neighborhoods and communities.
Visit LaviniaSmerconish.com to learn more about her services or schedule a consultation with her today.