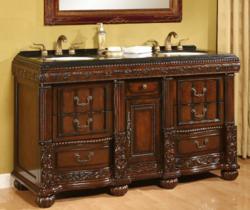 A modern, minimalist approach appeals to some for its simplicity, but an antique bathroom design is inherently lavish, focusing on conspicuous quality and craftsmanship.
(PRWEB) January 22, 2013
HomeThangs.com – the Home Improvement Super Store has made their goal to deliver the right product to the consumer. With that in mind, shopping and home design tips, as well as special product selections are being introduced.
Bathrooms are trending more modern than ever, moving away from traditional and especially antique design. But those who love the look of ornate, traditional bathrooms, should never fear – there's still plenty of room for a lavish style, and an antique bathroom vanity is a great place to start. But while there are plenty of Victorian and Edwardian antique replicas out there, it's more important to distinguish the bathroom style from more contemporary designs than it is to echo authentic historical ones. HomeThangs.com introduced a few of the most important features to look for in order to build a lavish bathroom that is timeless.
1. Woodwork (Carving)
Transitional bathroom vanities might maintain the basic form of more traditional designs, but they rarely have much, if any, carved wood detailing. If antique design is primarily "about" luxury and craftsmanship, this is one feature the bathroom vanity definitely shouldn't be without. Minimalist modern design is meant to allow the eye to slide easily over simple, straight lines, but antique bathroom vanities like, for example, Bradford Vanity from B&I Direct capture the eye in the fine details and encourage one to linger. The more detailing the better, and hand-finished is always preferable to machine finished.
2. Woodwork (Patterned Veneers)
When we think of antiques, we don't generally think of the hand-hewn furnishings of, say medieval peasants or American frontiersmen. We think of the furniture of aristocracy – things that aren't merely old but decadent. Unfortunately, not all of us are kings or queens, and things like solid mahogany aren't exactly readily available to the rest of us. But technological advances in woodcutting have given us the next best thing – high quality veneers made out of the exotic, expensive woods, which used to only be found in palaces. These are best when used not just to enhance a less expensive underlying material, but more artistically, as, for example, with the beautiful patterned inlay on the doors of the Multi-Cherry Wood Vanity from Legion Furniture.
3. Hardware
One of the simplest ways to make a traditional bathroom vanity look more contemporary is to change out the hardware, and the reverse is just as true. Ornate antique brass drawer pulls and door handles are one of the strongest visual markers of antique design, and can add a luxury quality to even a relatively simple bathroom cabinet. With something as ornate as, for instance, the Stockton Mahogany Vanity by B&I Direct, antique hardware does double duty, accentuating the beautiful wood detailing while adding their own certain charm.
4. Gilt
Another sure-fire mark of elegant, traditional antique bathroom vanities is the use of gilt detailing. This can range anywhere from a subtle gold sheen that brings out the depth of the wood work, to something really show stopping with a whole lot of gold accents. For example, the Canterbury Vanity by B&I features floral detailing on the columns, accentuated by gold. This is especially effective because modern design eschews the use of gold in favor of more industrial steel or chrome. Even a little glint of gold can give a bathroom vanity a much more antique and luxurious look and feel.
5. Hand Painting
In a world of machine-made, mass produced products, "artisan" has come to be a synonym for craftsmanship. Any hand finished detailing equates to quality and care, often palpably so. Hand painted bathroom vanities work especially well with an antique decor, both for this reason and because few contemporary bathroom vanities get this same treatment. A hand painted design like the one on the Juliet Vanity by B&I for example, can help elevate the decor to a more authentic antique setting.
6. Go Big
Finally, if trying to build a bathroom that's really set apart from the uniform simplicity of contemporary design, one really has to go big. That can mean everything from actual literal size (though there are plenty of fabulous small antique vanities as well) to combining any of the design elements, or even looking for other big, elaborate design choices that are reserved pretty exclusively for the lavish end of antique design.
Ultimately, differentiating antique from contemporary design is less about authenticity and more about luxury – about detail and material choice. A modern, minimalist approach appeals to some for its simplicity, but an antique bathroom design is inherently lavish, focusing on conspicuous quality and craftsmanship.
HomeThangs.com is not only a home improvement superstore, it also provides expert design tips and a comprehensive shopping guide, taking the ideas from professional interior designers, and offering tips to the consumers on how to pick the products to best suit their needs.