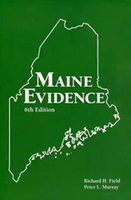 Standish, Maine (PRWEB) September 21, 2009
Tower Publishing, a growing legal publishing house, has acquired the publishing rights of the venerable Maine Law Book Company. Founded by Harvard Law Professor Peter Murray, the Maine Law Book Company is best known for its practical legal treatises, including Basic Trial Advocacy and Maine Evidence.
After years of teaching trial advocacy at both Harvard Law School and the University of Maine School of Law, Mr. Murray wrote his own trial advocacy guide for law students and young lawyers. Basic Trial Advocacy is now used in trial advocacy and trial practice courses in law schools across the country. Covering everything from opening statements and cross-examination techniques to courtroom conduct and trial lawyer ethics, the work is the culmination of years of experience both teaching and practicing law at the highest levels.
Maine Evidence is the definitive treatise on the Maine Rules of Evidence and the case law interpreting and applying those rules in civil and criminal cases. Included are the text of the rules, Advisory Committee Notes, and comprehensive commentary and analysis. Originally authored by Richard Field and Peter Murray, Maine Evidence is currently in its 6th edition, and can be found in hundreds of law offices across the state.
About the Author: Peter L. Murray, Esq. has been a successful trial lawyer in Maine for over 25 years and is the Braucher Visiting Professor of Law from Practice at Harvard Law School, where he has regularly taught Evidence, Trial Advocacy, Comparative Civil Justice and The American Legal System. He is the author of several books and articles on evidence, comparative law and civil justice. He has been Consultant to the Maine Advisory Committee on Rules of Evidence since 1973. Currently he practices law as Of Counsel to the firm of Murray, Plumb & Murray in Portland, Maine.
About the Publisher: Tower Publishing, founded in Concord, New Hampshire in 1772, is an independently owned legal publishing house now based in Standish, Maine. Tower currently publishes legal texts of note including Maine Appellate Practice, Missouri Corporation Law and Practice, and Alaska Rules of Court. In a legal information market dominated by two international conglomerates, Tower stands out by providing practitioners, judges and law students with affordable, high quality legal texts.
###