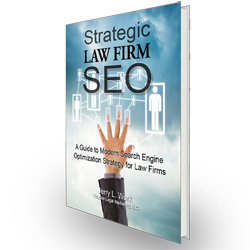 This book bridges the gap, illustrating for lawyers how to optimize their websites for the 2012 search environment.
Dickson, TN (PRWEB) April 10, 2012
Virtuoso Legal Marketing LLC, a Dickson, TN-based Internet marketing company that specializes in the promotion of law firms, has just released a new book on the subject of law firm SEO, Strategic Law Firm SEO: A Guide to Modern Search Engine Optimization for Law Firms. The book is a follow-up to The Law Firm Internet Marketing Book, which was released in 2008.
Strategic Law Firm SEO focuses exclusively on teaching those involved in law firm marketing what they have to do to achieve high search engine rankings today. SEO has changed considerably in the last several years. Techniques that worked last year may no longer be appropriate, and may even be harmful. Yet certain classic SEO tactics, such as sound on-page optimization, are still very much relevant and needed. This book bridges the gap, illustrating for lawyers how to optimize their websites for the 2012 search environment.
Topics include on-page optimization; link building using a variety of techniques; social bookmarking; how to distribute articles and establish a high level of author credibility with Google; blogging; online publicity; the content distribution cycle; local search optimization, including Google Places; and social media, especially as it relates to improving search engine rankings. There is a strong emphasis on content creation, as this has become an increasingly important aspect of modern search engine optimization. The book focuses more on strategy and less on specific tactics, and is based on the real-world techniques that Virtuoso Legal Marketing uses to promote its legal clients' websites.
"When we did the first book (The Law Firm Internet Marketing Book) in 2008, we covered a lot of areas beyond just SEO, such as paid search marketing," said author Jerry Work. "It also contained a lot of step-by-step directions that quickly became outdated. For this book, we wanted to be much more focused on lawyer SEO, which provides a higher long-term ROI than paid search, and we wanted to concentrate more on high level strategies and a little less on the step-by-step stuff. There is still plenty of specific direction, but I think the new book has more longevity and value to the reader."
Strategic Law Firm SEO is available in a 132 page soft-cover printed format at Amazon.com, in Kindle digital format, or as a PDF download. For a limited time, the book can be obtained for free at its website, http://www.lawfirmseo.biz. Virtuoso Legal Marketing has also created a free email course, and is in the process of creating a series of videos, based on the content of the book.
About Virtuoso Legal Marketing LLC
Virtuoso Legal Marketing LLC, formed in 2010, is a partnership between the founding members of Internet marketing company, Work Media LLC, and other experienced search engine marketing professionals who have years of experience promoting law firm websites. The company differentiates itself from other Internet marketing companies in the legal industry by providing market exclusive, contract free service.
To learn more about the services that Virtuoso provides, visit http://www.virtuosolegalmarketing.com. The company may also be reached via email at info(at)virtuosolegalmarketing(dot)com or phone at 800-281-2226.