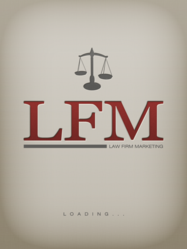 With 67 million iPads out there, it just made sense to me to create content for our niche, legal marketing, that is specifically purposed for an iPad. I haven't met an attorney yet that doesn't have one! And most take them to bed at night.
West Chester, PA (PRWEB) June 30, 2012
A year ago Apple made one of their big decisions. They decided to place the Newsstand app on the home page of every iPad. Prior to that, newspaper and magazine apps might appear on any page and with over 500,000 apps, it wasn't always the home page.
One of the first magazines created exclusively for the iPad was "The Daily" and it was the #1 news app on the App Store in 2011. The mission of The Daily is "to provide the best news experience by combining world-class storytelling with the unique interactive capabilities of the iPad."
Next month "Law Firm Marketing Magazine" will join the ranks of digital magazines built exclusively for the iPad and may even be the first for the legal industry. The publication will feature a high profile cover story each month. These cover stories will be interactive interviews presented on video, something that is out of reach for dead tree magazines.
Speaker also plans to include other interactive features in the magazine such as webinars, and links to join online events and Google Hangouts, "Our team is really excited about launching this magazine because it will allow us to push the envelope on technology and new media, and we love that. We have a young team of great problem solvers and innovative thinkers and they love the challenge of continually raising the bar," says Speaker. "I have one young man on the team that was just named a 2012 U.S. Presidential Scholar in the Arts. It might be awhile before anybody raises the bar on that!"