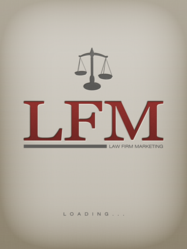 The lawyers I know and work with are hero's. They care deeply and without them, average citizens would not get treated fairly.
West Chester, PA (PRWEB) September 30, 2012
Law Firm Marketing Magazine is an interactive digital magazine that will be available in the iTunes app store in October. "We are pretty excited about Law Firm Marketing Magazine," says Cindy Speaker, editor and publisher. "It's been exciting to me to watch my team embrace this process and really knock it out of the park." According to Speaker, Art Director Jay Kunkel did a fabulous job with design and layout. He is also the one that programmed all of the interactivity so that the magazine includes both videos and links.
A few short years ago a project like this would have been out of the reach of a small business but today's tools lower the point of entry and allow small businesses like Speaker Media and Marketing to compete on a much more level playing field.
This is not the first such project undertaken by the Speaker Media team. They just finished their first feature film that was a year in the making. The film "Well of Dreams" is an independent documentary that was shot mostly on location in Kenya.
Their hope is that Law Firm Marketing Magazine will be a low cost resource for lawyers with the best information available on the subject of marketing your law firm.
Speaker Media and Marketing provides marketing and media services to law firms throughout the US. Cindy Speaker, CEO of the company, began her legal career as the marketing director for a large multi-state law firm headquartered in Philadelphia before launching out on her own in 2000. Her clients include some of the largest and most successful personal injury law firms in the US.