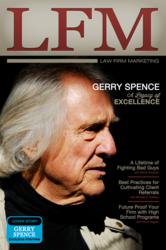 the media is owned by the power structure in this country, so we don't hear from the people, we hear from ... the people's master, the corporate entities of this country who control the people
West Chester, PA (PRWEB) October 31, 2012
Law Firm Marketing Magazine is the legal industry's first fully interactive digital magazine available in the iTunes app store for viewing on Apple's iPad. Publisher Cindy Speaker, President of Speaker Media Press says that her company developed the magazine for the iPad to take advantage of digital media and the advances in technology. "The magazine offers full video interviews for feature stories and also allows advertisers to create interactive ads that include embedded videos and hyperlinks," says Speaker. Law Firm Marketing Magazine was launched in the iTunes app store on October 17, 2012.
We are very pleased that legendary trial lawyer Gerry Spence agreed to do the cover story for our first issue. In it he talked about the way the corporate media has had much to do with the cultural stigma against trial lawyers. According to Mr. Spence, "the media is owned by the power structure in this country, so we don't hear from the people, we hear from ... the people's master, the corporate entities of this country who control the people - who own their jobs and who tell them what they should think. And so the corporate media tells the people that lawyers - trial lawyers - are sleaze bugs...[who are] bought and sold... [who] have no basic moral standing."
The magazine will be published monthly and also repurposed for other platforms and mediums to reach the legal industry on a global basis. According to Speaker, optimal viewing is currently limited to the iPad platform but she anticipates that in the future the magazine will be available on other tablets and devices.