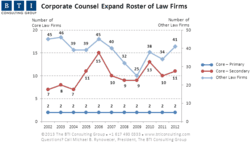 We recommend current providers implement "markets-of-one" strategies before the new firms gain traction.
Wellesley, MA (PRWEB) June 14, 2013
Law firms are either predator or prey—and clients just invited 8 new predators into the fray. BTI Consulting Group's newest release of Benchmarking Corporate Counsel Management Strategies reveals the world's largest companies added 8 new law firms to their rosters—the typical large company now uses 54 law firms, up from 46 in 2011. As they test drive these additional firms, research shows 48.1% of corporate clients replaced one of their 2 primary law firms in 2012—up from 38.6% in 2010.
One primary firm can receive 25% to 35% of outside counsel spending. When newly appointed firms are making their own strategic and branding noise—taking on assignments clients view as extremely valuable, if not as profitable to the law firm—they open themselves up to a larger piece of the action.
"The predators will be treating their top clients as "markets-of-one"—developing budgets and plans to build their turf," comments Michael B. Rynowecer, President of The BTI Consulting Group. "We recommend current providers implement markets-of-one strategies before the new firms gain traction."
BTI conducted more than 300 independent, individual interviews with CLOs and General Counsel at Fortune 1000 companies and large organizations. Now in its 13th year, BTI conducts the only continuous benchmarking market study of corporate counsel worldwide.
Find more information about this and other compelling research at http://www.bticonsulting.com or contact BTI at 617.439.0333. BTI is the undisputed leader in providing high-impact strategic research to professional service firms and their clients.