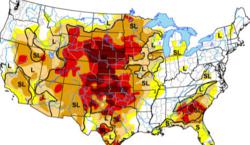 Temporary relief can lead to complacency. To have green, healthy, weed-free lawns in Spring, we still have some work to do
Denver, Colorado (PRWEB) February 22, 2013
Colorado lawn care company Swingle Lawn, Tree & Landscape Care advises that while recent snowfall in Denver, Fort Collins and Colorado's high country is welcome, it is not enough to alleviate concerns about the impact of the current drought on lawns and trees.
"We welcome the snow and we're glad more is forecast," said Tom Tolkacz, CEO of Denver-based Swingle, "but drought conditions persist in Colorado. We need to continue to give our lawns and trees every opportunity to thrive in Spring."
Tolkacz referenced a recent US Drought Monitor report that labeled the entire Colorado Front Range in "moderate to severe" drought and one from National Weather Service projecting dry conditions to "persist or intensify" through April. Before the snowfall that began Wednesday, February 20, 2013, Colorado snowpack was 75 percent of average. The precipitation received of late will not be enough to make up for the shortfall.
Swingle is advising Colorado homeowners and commercial property managers to take specific measures to protect the health and beauty of their lawn and trees:

When shoveling or blowing snow off driveways or sidewalks, push it to your lawn rather than the street. Every little bit of moisture helps the landscape and streets become incrementally safer.
Treat your soil. Dry lawns are susceptible to disease. Soil enhancement provides bigger impact from smaller amounts of water.
Set an appointment now for lawn aeration in early Spring.
Mulch bare ground areas of your lawn and top-dress existing mulch beds. Mulch should be no more than four inches deep and not up against the trunk or base of trees and shrubs.
Check your lawn for mites. Wipe a white piece of paper over the grass. Cool season mites are activated by warm winters and an absence of precipitation, such as Colorado has experienced.
Be sure to check southern and western exposures. If red streaks appear on the paper, contact a professional about mite control.
"Temporary relief such as we've experienced recently can lead to complacency," said Tolkacz. "To have green, healthy, weed-free lawns in Spring, we still have some work to do."
About Swingle Lawn, Tree & Landscape Care
Founded in Denver in 1947, Swingle Lawn, Tree and Landscape Care has grown to be the one of the largest residential and commercial lawn service and tree care companies in Colorado, employing more certified arborists than any other Colorado company. For information please contact Vince Serio VSerio (at) MySwingle (dot) com (303) 337-6200 or visit MySwingle (dot) com/contact.