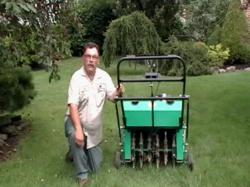 Lawn rebuilding strategies will vary depending on the unique problems identified. Typically, the best actions will include soil testing, aeration and seeding.
Philadelphia, PA (PRWEB) August 21, 2012
After a summer of scorching heat and dry soil, many lawns are showing signs of poor health. Grass has thinned leaving room for opportunistic weeds like crabgrass and nutsedge to flourish. Without action, these weeds multiply and impact a lawn's health and beauty. Between now and October is the best time for lawn care services to fix thin, weed infested lawns. Giroud Tree and Lawn provides the top lawn repair actions homeowners can take to get a healthy, thick, green lawn.
Lawns are suffering from a variety of summer related problems. Heat and dry soil has caused many lawns to turn brown and thin. While rain has brought some relief, survival came at a price. Grass died back and thinned. Soil hardened and cracked. The combination provided perfect conditions for crabgrass, nutsedge and other weeds to take hold. Additionally, humidity and warm night-time temperatures opened the door for diseases like dollar spot, brown patch and red thread. Poor lawn maintenance practices only make the problems worse. Mowing lawns too short exposes grass roots to more heat. Too much or too little watering encourages more weed growth. Instead of a green carpet, many homeowners are looking at a patchwork of weeds, bare spots and thin grass making the lawn a prime candidate for lawn repair services.
"When a lawn is in poor health, the problems multiply with each season," says Mike Taraborrelli, Lawn Care Manager and PA Certified Pesticide Applicator for Turf, at Giroud Tree and Lawn. Fall lawn care services can break the cycle with lawn repair that includes aeration, seeding and other repair strategies."
Lawn care services to repair lawns will vary depending on the unique problems identified. Typically, the best actions will include the following:
1. Evaluation: Professional evaluation by a PA certified lawn care service technician will identify the problems and determine the best way to repair the lawn.
2. Soil testing including pH: Professional lawn care service companies will measure pH balance, nutrient levels and soil quality. Test results will provide an accurate picture of adjustments needed in the soil.
3. Aeration: Breaks up dense thatch and fractures compacted soil. Aeration stimulates root development and helps build a thicker lawn.
4. Seeding: Bare, thin and shaded areas need seeding with newer, more disease and drought resistant grass varieties.
5. Fertilization: Lawns should be fertilized with a fall formula that establishes strong root systems to prepare for winter stress and spring growth.
6. Lime: If a pH test shows high acidity levels in the soil, adding lime will reduce acidity and enable grass to better absorb nutrients.
"Now through October is the optimum time for lawn repair," advises Mike Taraborrelli, Giroud Lawn Care Manager. "Lawns are focusing energy on root growth in preparation for winter. As a result, repair strategies like aeration, seeding and fertilization can have maximum impact."
Fall lawn care services will repair thin, weed infested lawns and get the lawn in prime shape for Spring. If lawn damage is minimal, a DIY homeowner can take on the lawn repair. For more extensive damage, a professional lawn service company should handle the job from preparing the seed bed and seeding right through fertilization and amendments.
About Giroud Tree and Lawn
Giroud Tree and Lawn specializes in tree service, tree removal and lawn care programs that make customers love doing business with the company since 1974. Serving Bucks, Montgomery and Philadelphia Counties, the company offers professional tree and lawn evaluation, tree pruning, insect and disease control, fertilizing, tree removal, stump removal, lawn repair to rebuild damaged lawns and traditional and organic annual lawn treatments to keep lawns healthy and green. Giroud Arborists are certified by the International Society of Arboriculture (ISA) and have the knowledge and experience required to properly diagnose, treat and maintain trees and lawn health. The company has been awarded the Angie's List Super Service Award® every year since 2005. The "Giroud Treework for Charity" program donates free tree care services to parks, historical sites and other non-profit organizations located in the Company's service area. For more information, visit the company website at http://www.giroudtree.com or call 215-682-7704.