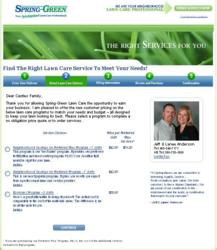 Plainfield, IL (PRWEB) September 30, 2011
In challenging economic times, driving innovation is a necessity to grow small businesses. Spring-Green Lawn Care has challenged a 40+ year old industry using new technology and innovation to better service customers, building a more loyal following.
Customers can now order service when it is most convenient for them. Proprietary tools incorporating satellite imagery to collect lawn measurements not only means owners are using less gas to run estimates (thus keeping costs and emission levels down), they are also providing immediate responses and faster quality service to their local customers. Ordering lawn care service can be done via the telephone, direct mail and even the World Wide Web, 24 hours a day. A database that tracks customers' purchase and service history, as well as any problems they might have had allows the franchisee and employees to be more proactive on an individual basis. It also provides the owner the opportunity to market to current customer's neighbors on a per street level.
"We have focused on being innovative with technology and new infrastructure over the last few years and have seen success from our new programs and features," said Ted Hofer, CEO. Our owners are building brand loyalists and a recurring revenue stream that may seem atypical in today's economic environment. Our goal is to create the tools that when combined with the right local Spring-Green franchise owner, make for a seamless customer experience."
Founded in 1977, Plainfield, Illinois-based Spring-Green Lawn Care has been delivering both traditional and organic lawn and tree care services nationwide for over 34 years. Its service is centered on the beautification of local neighborhoods and communities with both residential and commercial customers. Spring-Green is an attractive opportunity for candidates who do not want to be tied to a storefront operation, retail hours or set appointments. Franchise owners enjoy flexibility of schedule and an outdoor-based business with recurring revenue. Spring-Green currently has approximately 75 franchisees operating more than 120 territories in 27 states.
For more information about becoming a Spring-Green customer, contact 866-279-3832 or via the Spring-Green website at http://www.spring-green.com.
If you are interested in learning more about becoming a franchisee, contact Mark Potocki at 800-777-8608 or via e-mail at mpotocki(at)spring-green(dot)com or visit the Spring-Green website at http://www.springgreenfranchise.com.
###