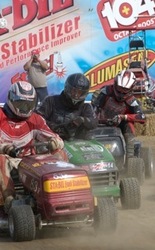 "Spring is here and the time is right to kick grass, sling sod and race lawn mowers," said Bruce Kaufman, "Mr. Mow It All," U.S. Lawn Mower Racing Association President. "We've got our MowJo working from coast to coast and lawn to lawn!"
Northbrook, IL (PRWEB) March 16, 2011
As sure as Ground Hog Day sees furry rodents pulled from hibernation, the First Day of Spring, Sunday, March 20, will see lawn mower racers drag their bladeless beasts form garages, shops and sheds across America while the U.S. Lawn Mower Racing Association (USLMRA) announces its' 2011 STA-BIL Lawn & Garden Mower Racing Series schedule.
"Spring is here and the time is right to kick grass, sling sod and race lawn mowers," said Bruce Kaufman, "Mr. Mow It All," U.S. Lawn Mower Racing Association President. "We've got our MowJo working from coast to coast and lawn to lawn."
More than 1,100 racers will celebrate the end of winter by making preparations for the upcoming racing season, while finding new ways to use up way too much free time. "Even with rising gas prices and a tough economy, Americans are looking for cheap, family fun," Kaufman added. "If you're into motorsports, lawn mower racing is still the most affordable and fun motorsport to get into. The mow the merrier!"
2011 STA-BIL Lawn & Garden Mower Racing Series:
April 2-3, Potomac Speedway, Mechanicsville, MD
April 16-17, Windy Hill Mower Speedway, McDonough, GA
May 21, Young Farmers Race, Berrien Springs, MI
June 11, Englewood Lions Club, Englewood, TN
June 24-25, Nostalgia Days, Zion, IL
July 2-3, 4th of July Festival Estacada, OR
July 16-17, Huntington's Disease Race For Research, Sparta, MI
August 5-6, Bowles Farms, Clements, MD
August 20, Westmoreland Fair, Greensburg, PA
August 20, Englewood Lions Club, Englewood, TN
September 3, STA-BIL Nationals, Delaware, OH
September 4, U.S. Open, Delaware, OH
Established in 1992, the U.S. Lawn Mower Racing Association is the nations' oldest and largest national lawn mower racing sanctioning body presenting organized events across America including the 21-race STA-BIL Series and a network of 50 Local Chapters and Affiliated Clubs hosting more than 140 sanctioned races in 37 states nationwide.
Racing mowers compete with cutting blades removed at speeds up to 60 mph in seven classes: Juniors (15 mph), IMOW (20 mph), Prepared (50 mph) and Factory Experimental (60 mph) for trophies, glory and bragging rights.
USLMRA sponsors include STA-BIL Fuel Stabilizer and STA-BIL Ethanol Treatment, the EZ Lift Rider Ramp and Hand-E Hauler from Blitz USA, and K&N Filters.
For mow information visit http://www.letsmow.com
# # #