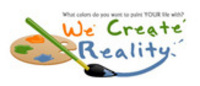 As we live longer and our standards of living continue to rise, people are no longer willing to settle for a ho-hum existence
Essex, VT (PRWEB) August 23, 2007
"As we live longer and our standards of living continue to rise, people are no longer willing to settle for a ho-hum existence," says Sandi Phillips, President of We Create Reality. As the idea that we create our own realities becomes more mainstream, many people are coming to a place where they choose to make drastic changes in their lives to come more into alignment with what they really want and who they really are. The facilitation that comes from working with a life coach is the difference between a ho hum life and a life of excitement and satisfaction, according to some who are re-inventing themselves at all ages. "Being happy...makes me better at everything I do. I'm energized, invigorated and setting an example of happiness for my children. And if I need to make another change down the road, I've got a process - and the coach's number," according to client Pam Abrams. The fact that people are ready to think differently and take more responsibility for intentionally creating the lives of their dreams is further evidenced by the success of the recent movie The Secret.
Sandi offers Well Being Weight Resolution using the Law of Attraction's laws of deliberate creation. The basis of thought underpinning the exciting new BASK Well Being Weight Resolution system is the idea that our thoughts determine the things, people, and details of our lives. So if we want to change our lives and the experiences in our lives, we have to change what we think about and how we think about it. This is called Deliberate Creation. The BASK Well Being Weight Resolution program specializes in applying the Deliberate Creative process to what some would call the yo-yo dieting syndrome, or repeated gain and loss of the same weight. This common experience, which plagues many for most of their adult lives, is resolved finally, once and for all, from the inside, by altering patterns and habits of thought. This new program is a series of 10 weeks of teleclasses available on a rolling admission which provides the frame to guide someone through this journey. The experience comes with a community of others on a similar path, also giving one access to many opportunities for connecting with others through blogging and membership forums.
Sandi's background is reflective of the fact that many mental health workers are migrating to coaching because of the forward looking nature of it. "Historically, counseling or therapy has been backward looking, holding people in places they don't want to be any more. Coaching allows for active co-creation between the client and coach," according to Sandi. "The client is always considered to be the expert on their own lives and what they want from them. A good coach facilitates the drawing out of the answers that are already within, supports and guides the creation of a plan to reach them, and flows with conditions as the plan unfolds and changes and new avenues and opportunities appear."
Sandi's background, training, and education in psychology of wellness and spirituality and personal life experience converge to skillfully facilitate people through the throes of many life changes. Private and group BASK Well Being Weight Resolution sessions and teleclasses are available to help people create bodies they love to live in using the laws of Deliberate Creation. Also available are general coaching sessions aimed at supporting one in creating a life he/she is eager to live. In addition, a complimentary sample coaching session is available at http://www.wecreatereality.com or by contacting Sandi at sandi @ wecreatereality.com.
###