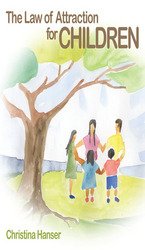 Downingtown, PA (Vocus) October 18, 2010
A new book contends that children understand a lot more than adults think. Free of the "realism" that filters most adult's creative thinking, children seem to gobble up the most esoteric mental meals. Developing this plethora of intellectual real estate should be every parent's goal. In her enchanting interpretation of an ancient Polynesian tale, author Christina Hanser makes this task easy and fun as she revels her own version of The Secret in her book, The Law of Attraction for Children (published by AuthorHouse).
The Law of Attraction for Children is based on the ancient tale of the Huna philosophy of Polynesia. The tale, passed down from generation to generation by the Kahunas (priests and priestesses who were keepers of "the secret"), lays out the fundamental idea in Huna philosophy – that we create our experience of reality. In short, we are co-creators with the universe.
The Huna is a knowledge that comes from the oldest inhabitants of the earth. Its origins date back to the lost continent of Mu, also known as Lemuria. In fact, "huna" means "hidden secret."
Imparting this knowledge in a charming storyline, The Law of Attraction for Children follows Thaynna, a little girl growing up in Polynesia, who learns the law of attraction. In following Thaynna, young readers learn how to use their creative minds to facilitate their daily lives.
An excerpt:
Thaynna's Birthday
The day she turned seven years old, Thaynna got permission to start learning about the big Secret. Her parents said that every afternoon they would tell her a little bit and she could ask questions if she wanted.
She was really happy, although she had thought the Secret would be revealed at once. Her dad said that she needed to go to sleep every day with a part of the story. Certain lessons have to be studied and experienced.
They decided to start the lesson the next afternoon. She almost did not sleep because of her excitement! She spent the night trying to imagine what the Secret consisted of. She knew that she would have the key to make her dreams come true. Thaynna knew that from now on everything would be much easier and that she would gain the wisdom of her ancestors. She was thrilled.
The Law of Attraction for Children is a radiant look at a human approach to quantum physics, educating parents that teaching their children the way to success at an early age is the best gift they can give them and reassuring children that their imagination is their most important asset.
Christina Hanser is a therapist, mother of three and writer who is renowned for her work in neurolinguistics programming, Reiki, Arolo-Tifar and angels. Hanser has a strong connection with the angelic world and is endowed with great sensitivity. She teaches courses on alternative therapies worldwide.
AuthorHouse is a premier book publisher for emerging, self-published authors. For more information, please visit http://www.authorhouse.com.
###