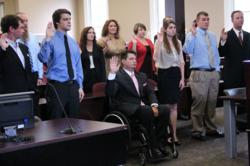 Knoxville, Tennessee (PRWEB) August 31, 2012
Dean Sydney A. Beckman announced that Lincoln Memorial University – Duncan School of Law (LMU-DSOL) will enroll a cohort of students in January 2013. Students entering in January would follow an accelerated track and could complete the full-time program in less than three years or the part-time program in less than four years.
LMU-DSOL offers concentrations in domestic relations or business law for students interested in specializing. Courses are taught by former prosecutors, judges and practicing attorneys with substantial work experience in the field. LMU-DSOL also utilizes state-of-the-art learning technology to deliver its curriculum. All of the lectures are video captured and streamed online for easy recall and review. Professors can gauge students' understanding of a subject with embedded polling in each lecture and mid-terms are administered to track the students' progress.
Students who enroll in the January cohort could be eligible for substantial scholarships. Additionally, LMU-DSOL is offering free LSAT registration for the first 75 people to apply before the October LSAT registration deadline of September 14.
Professor Joshua Pluta is also offering a free LSAT mini course on Saturday, September 22 to help applicants prepare for the entrance exam. The course will take place LMU-DSOL, 601 W. Summit Hill Dr., and will run from 1 p.m. to 5 p.m. Contact Pluta at 865-545-5308 or by email at joshua(dot)pluta(at)lmunet(dot)edu to register.
The inaugural class is slated to graduate in 2013. LMU-DSOL has Tennessee Board of Law Examiners approval through 2017so all students may apply to sit for the bar exam in the state of Tennessee.
The Dean is fully informed as to the Standards and Rules of Procedure for the Approval of Law Schools by the American Bar Association. The Administration and the Dean are determined to devote all necessary resources and in other respects to take all necessary steps to present a program of legal education that will qualify for approval by the American Bar Association. The Law School makes no representation to any applicant that it will be approved by the American Bar Association prior to the graduation of any matriculating student.
The Lincoln Memorial University-Duncan School of Law (LMU-DSOL) is located in Knoxville's Historic Old City Hall Building. LMU-DSOL is an integral part of LMU's values-based learning community, and is dedicated to preparing the next generation of lawyers to provide sound legal service in the often underserved region of Appalachia and beyond. For more information about LMU-DSOL, call 1-800-325-0900, ext. 5303 or visit us online at http://www.lmunet.edu/law.