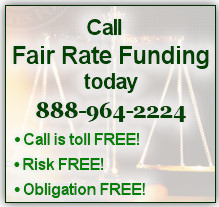 "Clients may expect approvals up to $50,000 in some cases."
Manasquan, NJ (PRWEB) January 20, 2012
Fair Rate Funding, an industry leader in the lawsuit funding business, announces the dedication of $5 million to help plaintiffs involved in Depuy Hip Replacement lawsuits cover some expenses while the action(s) are resolved.
In March, 2009, attorneys filed the first lawsuit in the country on behalf of a patient suffering a revision of a defective DePuy ASR hip implant in the Northern District of California Federal Court (Case No. C 09-01993 JL). In 2010, Johnson and Johnson recalled the product. Since then, thousands of plaintiffs have joined in legal actions against the manufacturer. This increase in complainants, while ultimately offering some relief to the victims, will unfortunately delay the distribution of monetary damages to future plaintiffs.
Fair Rate Funding currently offers pre settlement loans for a wide variety of legal actions, including automobile accidents lawsuits, slip and fall cases, medical and legal malpractice actions, Jones Act cases and many other legal proceedings. With the addition of funds specifically earmarked for DePuy cases, Fair Rate Funding plans to meet the growing need for pre-settlement funding for victims of the DePuy Hip products offered by Johnson and Johnson throughout the last decade.
Paul Coppola, President of Fair Rate Funding indicated an increase in application volume in recent months. "We decided to meet this increasing demand for funding by seeking out additional pools of funds to help these individuals," Coppola said. "Fair Rate Funding now possesses more than adequate resources to fund DePuy Hip Replacement lawsuits."
Coppola said that DePuy cases were funded by Fair Rate Funding in the past however, the amount of dollars available was capped at $10,000.00 to $15,000.00. "Because we were able to secure these additional funds, we are able to offer more money on DePuy cases than ever before," Coppola continued. "Clients may expect approvals up to $50,000.00 in some cases."
Applicants can apply for pre-settlement funding by calling 888-964-2224 or visiting http://fairratefunding.com. Fair Rate Funding offers lawsuit loans to plaintiffs who qualify. Once the process is completed; clients can expect their money in as little as 12 hours.
###