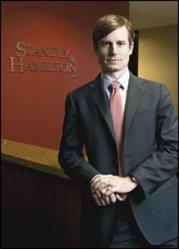 Dallas, TX (PRWEB) October 10, 2012
Standly Hamilton, LLP's life insurance lawyers announce the launch of the firm's life insurance claim help center website, which offers information on life insurance benefits denials and life insurance lawsuits. A number of recent major news stories have documented a growing number of life insurance benefits denials that result in life insurance lawsuits. A Bloomberg article asserts that, "Since 2008, federal judges have concluded that some insurers cheated survivors by twisting facts, fabricating excuses and ignoring autopsy findings in withholding death benefits." The authors of this and other articles have identified a trend of controversial life insurance benefits denials.
Despite the sluggish nature of the U.S. economy as a whole, large life insurance companies are having record years. Top U.S. life insurance companies rank among the largest corporations in the United States. For example, MetLife accrued $6.7 billion in net income during 2011 (investor.metlife.com/phoenix.zhtml?c=121171&p=irol-newsArticle&ID=1661006&highlight=) and paid its CEO $10 million. Prudential brought in $3.531 billion in net income that year (news.prudential.com/article_display.cfm?article_id=6158), and compensated its CEO with a package worth $23 million. (Executive compensation information from aflcio.org/Corporate-Watch/CEO-Pay-and-the-99)
The attorneys handling denied life insurance claims at Standly Hamilton are offering a no-cost, no-obligation case review to beneficiaries of a life insurance policy where the life insurance company denied the benefits, either through rescission, where the life insurance policy is effectively cancelled even though premiums maybe have been paid for years, or in cases where the life insurance carrier offered some other reason for not paying benefits.
The firm welcomes inquiries from other lawyers regarding handling denial of benefits life insurance lawsuits. Standly Hamilton, LLP may be available to handle cases directly or to work as co-counsel.
About Standly Hamilton
Standly Hamilton specializes in high-stakes contingency fee litigation, representing clients throughout the nation. The firm handles cases in a wide range of business transactions as well as those in which serious injury or death resulted from a dangerous drug or defective medical device. Its attorneys have represented clients in lawsuits against some of the largest corporations in the world. Christopher Hamilton, a founding partner at Standly Hamilton, LLP and one of the attorneys handling denial of life insurance benefits lawsuits, has obtained more than $70 million in verdicts and settlements since 2009. He has been repeatedly selected as a "Rising Star" by Texas Super Lawyers and had cases featured in Bloomberg, Dallas Business Journal, The Dallas Morning News, Columbus Business Journal, Texas Lawyer and others. Standly Hamilton offers information pertaining to life insurance benefits lawsuits at http://www.lifeinsurancelawsuitcenter.com.