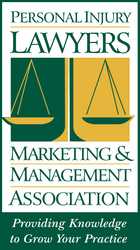 Raleigh, NC (PRWEB) February 22, 2011
Answers to attorneys' online marketing questions will be answered at two upcoming legal marketing conferences – attorney Chris Munley's ATLAS Lawyers Group, March 17-18 at the Naples Grande Beach Resort in Naples, Florida, and attorney Ken Hardison's PILMMA Marketing & Management Association, April 1-2 at the Sheraton Atlanta Hotel in Atlanta, Georgia.
Included in the information attendees will receive:

What you can do to improve your law firm marketing;
What other firms are doing to streamline their office procedures and staffing;
How you can avoid the costly marketing mistakes that other lawyers have made;
Sessions on the latest hot legal marketing trends and topics will include:
General marketing;
Improving profit;
Web marketing, including SEO, design, content, social media, mobile websites;
Settlement funding and companies;
Why and how to write free books;
Designing your advertising;
How to get trucking cases;
Building a presence in your city;
Getting more referrals;
How you can outdistance your competitors;
Roundtable discussions.
Dale Tincher, CEO of Consultwebs.com, a leading law firm web marketing company, states: "I have talked with several of our clients who have attended and I can speak first-hand about the enthusiasm they have for the conferences. Some clients ask me which conference they should attend and I tell them, 'both.' If you get one idea from each conference, you can generate significant revenue and/or savings. Additionally, it is valuable to meet and learn from marketing-savvy lawyers."
Attendees have praised past seminars.
One attendee stated, "I didn't think I would come away with a lot of new ideas and strategies, but boy was I wrong. The information was fresh and cutting-edge. But even more, the tips and advice I got from the other attendees at the conference was worth the price of admission alone. I'll be at the next one!"
Another said, "I wish I had done this ten years ago. I could have grown my practice much faster, and made a lot fewer costly mistakes along the way."
Still another stated, "I certainly have saved myself hundreds of thousands of dollars and years of learning."
Another said, "As a result of the conference, I went to my New York office, notes in hand, for a full day meeting with my key staff and started to implement many of the great ideas I came away with."
Leading consultants and attorneys have been lined up for presentations that include Web strategies and video marketing.
"Other benefits of these conferences include time to socialize and hold marketing discussions with fellow attorneys from around the country," Tincher said.
Attendees can bring family members along to enjoy the locations and accommodations.
To learn more about upcoming lawyer marketing associations, please contact marketing(at)consultwebs(dot)com or call 800-872-6590.
###