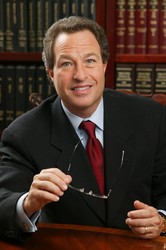 New York Super Lawyers, Metro Edition
New York, NY (PRWEB) May 6, 2008
David Perecman, a personal injury attorney in NYC, is proud to announce that he has been selected as an Honoree to and appeared in the National Law Journal's 2008 Hall of Fame as published in their Complex Litigation Issue released this week.
"This has been an amazing year for me" Mr. Perecman said. " After years as a litigator and trial lawyer I was recognized for my achievements, as a New York construction accident lawyer by Best Lawyers in America, Super Lawyers, The Multimillion Dollar Advocate Forum, The New York Law Journal, Lawdragon and now the National Law Journal, all in about a years time. I am truly humbled and honored that all these great organizations have selected me and graced me with the honor of being among the elite lawyers in the country and in the great State of New York. I guess I must be getting good at this 'practice of law' ".the New York lawyer says.
This recent honor comes at a time when Mr. Perecman is especially proud because he recently successfully finished the trial of a case that had gone on for years and had been up and down in the appellate courts. The insurance company is one that has dealt with Perecman before and sent in a defense trial lawyer, who claims national recognition, to win the case.
"I worked hard on this case. I thought about it and thought about it until I had an answer, a theme to present to a jury. I am really happy for my clients" says Perecman.
About Us:
For the past 25 years, Mr. Perecman of Perecman & Fanning has championed all types of personal injury and construction cases in New York State. Mr. Perecman, , who appeared in 2007 in New York Magazine as among "The Best Lawyers in America" and in The New York Times Magazine "New York Super Lawyers, Metro Edition" recognizing his work mostly for his work as a construction accident lawyer, has recovered millions of dollars for his clients over the course of his career. Among his more recent victories, Mr. Perecman won a $15 million verdict* for an injured NYC construction worker. Personal injury attorney David Perecman's depth of expertise in and breadth of knowledge are well recognized in NYC, while his record and reputation speak for themselves. David Perecman is the current Secretary of the New York State Trial Lawyers Association (NYSTLA) and a chair of its Construction Accident Law Committee.

subsequently settled for $7.94 Million
###