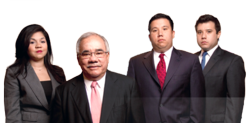 She is a compassionate and fierce litigator who fights relentlessly to protect the rights of the injured
San Antonio, TX (PRWEB) October 18, 2012
The Herrera Law Firm, Inc. is proud to announce that San Antonio personal injury lawyer Laura G. Tamez has been selected to receive one of the San Antonio Hispanic Chamber of Commerce's 2012 women's awards.
Tamez, a partner with The Herrera Law Firm, Inc., will accept the Norma Martinez Lozano Leadership Award on Oct. 16 at the chamber's third annual award luncheon, called "Making a Mark on the World." The event will be held at the Grand Hyatt Hotel, 600 E. Market St., at 11 a.m.
According to the Chamber, award recipients were chosen because they have made significant contributions to the community and serve as role models for women and girls. "Honorees are women who are 'unsung heroes,' confidently and notably making their mark on the world through inspiration and empowerment," the Chamber states on its website.
"We are pleased that the Chamber has recognized Laura for her contributions to the community," Frank Herrera Jr., the firm's founder, said today. "She is a compassionate and fierce litigator who fights relentlessly to protect the rights of the injured. Nobody is more passionate about advocating for her clients in the courtroom. This same belief drives Laura to create opportunities for others throughout the community."
Tamez was the first Latina to serve as president of the San Antonio Trial Lawyers Association. The group is committed to the protection of the 7th Amendment of the U.S. Constitution, or the right to trial by jury.
For more than a decade, Tamez has represented clients in personal injury and business litigation. She has obtained multi-million settlements and verdicts for clients in wrongful death and catastrophic injury cases.
About The Herrera Law Firm, Inc.
http://www.herreralaw.com/
Founded in 1983, The Herrera Law Firm, Inc. has successfully represented thousands of individuals and families who have been dealt catastrophic blows due to personal injuries from oil field accidents, car accidents, tractor-trailer truck accidents, construction accidents, workplace injuries, dangerous drugs and defective medical device injuries. Its mission is to rectify the wrongs committed against its clients so that they can regain their dignity, rebuild their lives, and reclaim financial stability.