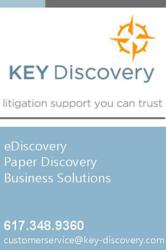 Team Key Discovery has 25 Runners participating in this grand event.
Boston, Massachusetts (PRWEB) May 24, 2012
Boston Litigation Support group Key Discovery is a Red Ribbon sponsor of The American Heart Association's 5th Annual "Lawyers Have Heart" 5K Road Race and Summer Celebration at the Bank of America Pavilion on Wednesday, May 30th at 7 p.m. In addition to sponsorship opportunities, firms and companies are encouraged to create teams to fundraise and participate in the race.
Lawyers Have Heart takes a critical step toward raising vital funds and awareness of heart
disease and stroke, both of which profoundly affect the legal profession. The event's chairperson, Elaine Herrmann Blais, of Goodwin Procter LLP, has rallied the Greater Boston legal community to support this unique and important event.
"Goodwin Procter is proud to sponsor this worthwhile event and expects up to 150 team members to race this year in the fight against heart disease and stroke – America's No. 1 and No. 4 killers," said one of the event organizers Elaine Herrmann Blais. "I am honored to have the opportunity to help bring together law firms and legal service providers across Greater Boston that will contribute to our event goal of raising $250,000 to fund heart disease and stroke research. These two major healthcare issues claim more than 930,000 lives a year."
Immediately following the 5K Road Race, there will be a summer celebration at 7:30 p.m on Boston's waterfront at the Bank of America Pavilion with BBQ and music performed by the Adam Ezra Group.
While the legal community and their business partners are sponsoring the event, anyone can participate in this 5K timed road race. Visit http://www.LHHBoston.org to register.
About Key Discovery:
Key Discovery is the market leader in Boston law firm eDiscovery and litigation support services. They offer a full menu of litigation support services for the Massachusetts legal community.
(617)-348-9360