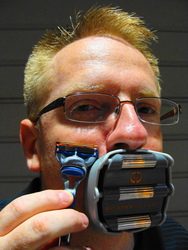 The Tonight Show with Jay Leno
Pittsburgh (PRWEB) June 19, 2008
Everyone who has grown a goatee knows how difficult it is to get it right. One little slip and the perfect goatee can literally go down the drain. After years of struggling to get his even on both sides of his face, a Little Rock man has created a revolutionary device that takes the guesswork out of goatee shaving. Scott Bonge has invested his life's work into this one-of-a-kind product called the GoateeSaver.
The GoateeSaver is a fully adjustable shaving template that was uniquely designed with "Tonight Show" host Jay Leno's chin in mind. Scott knows not all men are created equal. Some men have small chins, others have large chins. In order to get the GoateeSaver where it is today so all men can use it, Scott has spent the past two years perfecting it.
Scott just wrapped up showing his product in Pittsburgh, PA, at Inpex, America's Largest Trade Show for New Inventions. The GoateeSaver was among more than 800 inventions that were shown and judged by national and international judges. Scott's hard work and dedication paid off as he was awarded a Bronze Medal in the Personal Care category.
During Scott's week at Inpex, he also had the unique opportunity of being handpicked by Mr. Leno's producers for a special "Pitch to America" segment. The segment is airing this coming Friday, June 20th on "The Tonight Show with Jay Leno," and Scott will be in Burbank with his GoateeSaver.
There is a demonstration on how the GoateeSaver works on our website. Once you watch it, I'm sure you'll agree this is one of the best and brightest new inventions you have seen in a long time. This was first reported on KARK Channel 4.
For more information about the GoateeSaver, or to schedule an interview with Scott, please call Tiffany Morrin at (717) 228-8940, or send an email to tiffany@goateesaver.com.
Contact: Tiffany Morrin
Director of Public Relations
(717) 228-8940
Email: tiffany@goateesaver.com
# # #