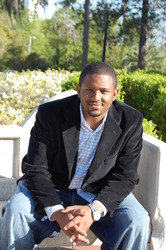 Youth today aren't praised by their peers, and unfortunately, there isn't much positive feedback from their parents or their communities
Tallahassee, FL (PRWEB) October 12, 2009
In 2005, Laymon Hicks launched a community service initiative to tutor 150 students during his senior year of high school in Tampa, Florida. During his interactions with the students, he realized how little encouragement youth in his community were receiving, and made an earnest commitment to being a source of inspiration for youth facing many of the challenges he once fought to overcome. In an effort to fulfill that commitment, Hicks has become a celebrated speaker, coach and author who motivates and helps youth take a more active role in their personal achievement. In his second book, A Treasure Chest of Motivation: 8 Jewels of Wisdom for a Young Adult's Success, Hicks delivers key strategies for success, including tips for Building a Personal Development Library. The tips are designed to help youth access positive reinforcement and encouragement, especially when they don't receive them at school or in their homes.
"Youth today aren't praised by their peers, and unfortunately, there isn't much positive feedback from their parents or their communities," said Hicks. "One way kids can compensate for this is by building their own personal development library. It's a great way for kids to collect life-affirming books and resources so they can access positive reinforcement, encouragement and tools for success whenever they need them."
A recent graduate of Florida State University, Laymon Hicks, is no stranger to adversity, but he's refused to let life's challenges hold him back. Instead, he's used his story to inspire and engage youth, and dare them not only to dream, but also to invest in and work tirelessly towards those dreams. Hicks often shares his journey from being a struggling middle school student to serving as the student body president of Florida State University, responsible for leading one of the nation's largest student populations and managing a $10.3 million dollar budget. His messages of determination, hard work, and perseverance have resonated with kids ages 8 to 18. Equipped with a special gift for impacting today's youth, Hicks relies on his experiences to deliver powerful, relatable tips, tools and resources tailored for young audiences and readers.
Hicks' second book, "A Treasure Chest of Motivation: 8 Jewels of Wisdom for a Young Adult's Success" includes strategies that have helped Hicks overcome barriers to success and embark on his own journey toward greatness. In addition to Building a Personal Development Library, other tips included in the book include: Seek Mentors, Listen to Your Inner Voice, Neutralize the Weapons of Mass Distraction and Seize the Opportunity. Each "jewel" in the book is designed to empower young readers. The book also encourages dialog among teens, their parents and their peers to help enhance their lives and help them begin thinking about setting and accomplishing life goals.
"Every kid faces self doubt, fear, setbacks, confidence challenges, haters, and friends who are only your friends because you are going somewhere," said Laymon. "These are all distractions. It's my hope that youth readers will rely on the messages in this book to regain focus on what's important, and be empowered to overcome the obstacles and challenges that they're sure to meet along the path to success."
"A Treasure Chest of Motivation: 8 Jewels of Wisdom for a Young Adult's Success" retails for $12.95 and is available at http://www.laymonhicks.com and Amazon.com. The book is ideal for middle school and high school students and Teen Read Week initiatives, and can be used by teachers, youth group leaders and youth organizations for group discussions and personal development workshops. Other books and resources available on Hicks' site include, "Unleash the Passion for Your Purpose: How to Activate Your Passion to Serve Your Purpose" and "It's Your Time to Shine."
Laymon Hicks is available for speaking engagements at schools and organizations throughout the U.S. For booking, visit http://www.laymonhicks.com or call (877) 529-6660.
Note to the Media: Teen Read Week is an annual literacy initiative first launched in 1998 by the Young Adult Library Services Association, a division of the American Library Association. The initiative is aimed at teens, their parents, librarians and educators. The goals of the week are to encourage teens to make time to read for the fun of it, use libraries to discover their interests, and participate in events at their school or public libraries.
About Laymon Hicks
Laymon Hicks is a 22 year-old motivational speaker, life coach and author. His dynamic presentations, books and CDs are designed to empower, encourage and prepare kids ages 8 and up for success in school and all areas of life. Laymon Hicks is available for speaking engagements, as well as personal and group coaching services. Visit http://www.laymonhicks.com for more information.
###