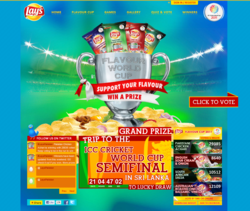 Lahore, Pakistan (Vocus/PRWEB) February 15, 2011
Fritolay Pakistan, with the collaboration of ICC, has rekindled the nations interest in cricket by introducing Pakistan to the real flavours of the World Cup 2011. Re-igniting passion in all cricket fans across the nation are four specially created brand new flavours. Each flavour represents a different cricketing nation. "Roasted Onions and Balsamic Vinegar" has donned Australian colors, the South African colors are being supported by "Salsa" flavour, "Sour Cream and Onions" flavour is playing for England and the colors of our nation are proudly represented by the "Chicken Achari" flavour.
These four international flavours are loaded with exciting opportunities for cricket loving Pakistanis. Every Pakistani can participate in the Lays Flavour World Cup 2011 and win a chance to see ICC Cricket World Cup 2011 in Sri Lanka by voting for favourite flavour . Voting mechanism for the Lays Flavour World Cup 2011 is as easy as sending the favourite flavour's individual code (PAK/AUS/UK/RSA ) as an SMS to the number 6655.
The whole nation is abuzz with the real flavours of the Lays Flavour World Cup 2011. Multiple winning opportunities, together with the chance to see the ICC Cricket World Cup semi-final in Sri Lanka make this the biggest World Cup tie-in in the history of snacks in Pakistan.
A specially comissioned website http://www.laysflavourcup.pk is serving as a score-board as well as featuring exciting games, a quiz and voting opportunity as well as numerous exciting downloads. The site makes daily winner announcements and hundreds have won exciting prizes via participating in Lay's Flavour Cup. Now you have the power to taste all new Lay's flavours, vote for your favourite flavour and choose the flavour Champion.
The real flavours of the ICC Cricket World Cup are here and in consumers' hands. The whole nation is voting and waiting to find out who will win.
About Fritolay Pakistan:
FritoLay Pakistan is the largest manufacturer of potato chips and snacks in the country. It runs a 14 acres snacks plant at Sundar Industrial Estate in outskirts of Lahore, which manufactures Lays Chips, along with other leading brands like Kurkure, Cheetos and Cravys snacks.
# # #