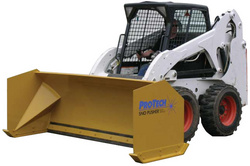 We're really excited about this line. The Sno Pusher fits in really well with our other product lines
Colorado Springs, CO (PRWEB) September 4, 2008
Layton Truck Equipment is now the distributor of Pro-Tech Sno Pushers for Colorado. "We're really excited about this line. The Sno Pusher fits in really well with our other product lines", said Kurt Unrein, Layton Truck Inside Sales Manager.
Pro-Tech is the industry leader in commercial sized containment plows. Sno Pusher models fit on all sizes of loaders, backhoes, skidsteers, tractors, forklifts and telehandlers and come in 48", 36" or 28" heights and sides. All Sno Pushers come standard with either a rubber cutting edge, steel trip edge or both.
A Sno Pusher can expand snow removal volume by as much as 500% over conventional blades or buckets. Conventional snow plowing either moves the snow to the left or the right (still on the property). The Sno Pusher will take several yards of snow, that are contained in front of the plow, and move it off the property. When using just a bucket, the capacity of the bucket becomes the limiting factor. Bucket capacities range in general from 1yd. to 4yd. Sno Pushers push 5yds to 38yds of snow (depending on equipment horsepower and weight) in one push.
Layton Truck Equipment, member of the Auto Truck Group, which has been Making Trucks into Tools since 1918. They offer extensive experience, knowledge, excellent service, competitive prices, and tremendous value to their customers. Auto Truck Group's five locations provide convenient access for up-fitting in the work truck industry. For more information please visit, http://www.laytontruck.com.
###