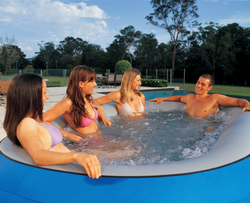 This is the best £285 I have ever spent.
London, UK (PRWEB) June 14, 2008
Now everyone can have a spa in their own garden at a pocket money price.
Taking up little room, the Lay Z Spa is simply inflated using the pump/heater unit and within 10 minutes it is ready for filling with water. Once the water is heated, at temperatures up to 40C, the fun and bubbles from its 80 powerful massage jets can begin. It has all the features of a conventional hot tub but without the price and the hassle. At the end of the season it can be emptied, deflated and put back in the box ready for next year.
The Lay Z Spa is revolutionary product. Now there is no need to spend a fortune on a spa and whatever the weather this summer, its always hot and relaxing in the Lay Z Spa. There are 2 models available - the Lay Z Spa Series 2 for up to 4 adults and the Lay Z Spa XL Deluxe for up to 6 adults.
Sales of the Lay Z Spa rocketed this Spring and, helped by great reviews in the media, this is continuing into summer.
This really is the product of Summer 2008 - there is no other spa product in either the gadget or garden market currently selling as well.
We encourage our customers to send to us their reviews of this hot tub. The most common comment we are getting back from customers is "This is the best £285 I have ever spent."
###