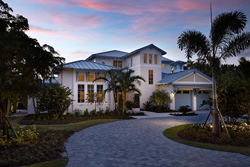 "London Bay is Southwest Florida's preferred luxury homebuilder for a reason. We offer great locations, homes that reflect our clients' taste, and a strong reputation built on 25 years in the luxury home market."
Naples, Florida (PRWEB) February 23, 2016
Celebrating 25 years as Southwest Florida's leading luxury homebuilder, London Bay Homes is redefining Naples' upscale lifestyle. Lending its vision to model homes and private residences in Naples' top gated communities and waterfront neighborhoods, London Bay Homes continues to gain momentum with record-breaking sales, new models selling before or shortly after completion, an expanded focus near downtown Naples, and nearly 30 model homes in various stages of development throughout Southwest Florida.
In Park Shore, the Moorings, Old Naples and Port Royal, eight luxury single-family model homes are planned or under construction. "We're projecting $50 million in sales for just these select homes," said Mark Wilson, president of London Bay Homes.
Six additional model homes also are under construction or planned in The Estuary at Grey Oaks, Quail West and Miromar Lakes Beach & Golf Club. Another 14 are underway at Mediterra, Naples' nine-time Community of the Year.
"Wherever the luxury buyer wants to live, they'll find London Bay," said Wilson. "We offer an incredible range of homes and lifestyles on prime homesites throughout Old Naples and in the region's top award-winning communities."
London Bay spearheaded the return of luxury custom-designed model homes in downtown Naples with its Southampton model, which sold shortly after its completion in March 2014. As the demand for downtown living intensified, the homebuilder purchased additional homesites.
London Bay's newest model – the three-bedroom Chelston at 631 Broad Court in Old Naples – recently opened for viewing. The two-story, 4,227-square-foot Chelston features an island-inspired palette and interior design by Romanza Interior Design.
London Bay is also nearing completion of a second model, the Anguilla. The home, located at 541 Neapolitan Lane in Park Shore, will feature a coastal contemporary design inspired by Romanza. The home's 3,584 square feet also will include large outdoor spaces, a raised wooden sundeck, pool, spa and garden wall. The Anguilla home is blocks from the Village on Venetian Bay and Gulf of Mexico beaches at Clam Pass Park.
"I expect both homes will sell quickly because they are close to the beach and downtown," said Toby Cloutier, who represents London Bay's Naples portfolio. "There is limited availability in these areas, and both models uniquely capture the luxury lifestyle homebuyers are looking for near Old Naples."
London Bay's emphasis on Private Label Living comes to life in the four-bedroom Claremont, just a block from the beach. The largest London Bay model currently under construction in downtown Naples, the Claremont is located at 271 First Ave. N. and is designed as the ultimate home for entertaining, featuring two kitchens, seven wine refrigerators/beverage centers, three icemakers, a bar at the summer kitchen, and an outdoor living room with fireplace.
Designed by the architectural firm MHK, the model offers a second-floor bonus room and a private cabana bedroom with its own lookout balcony above the three-car garage. The 5,743-square-foot Claremont is expected to be completed in July 2016.
Also planned and designed are two Port Royal models – the Cayman and Sapphire – on Gordon Drive, collectively valued at $25 million, according to Wilson. London Bay's additional Naples models include the Watlington, Portmore and Cloverdale on Fifth Street South, Crayton Road and Rudder Road, respectively.
London Bay is the exclusive homebuilder in Mirada, an intimate neighborhood of 16 single-family estate homes immersed in panoramic views of golf, lakes and nature preserves at The Estuary in Grey Oaks. London Bay's four-bedroom Chianti model features a secret third-story observation deck and more than 5,900 square feet of interior living space; another fully furnished model, the two-story Mirella, is planned.
"For discerning homebuyers who prefer The Estuary lifestyle, London Bay has one of the few remaining new home opportunities," Cloutier said.
London Bay Homes is also planning luxury single-family custom estate and villa model homes on a portion of the remaining homesites in Mediterra. Construction has already commenced on six models with the others expected to begin in spring 2016. Six additional models are currently open for viewing in Mediterra.
Plans are underway for two single-family models on estate sites by London Bay Homes in Quail West, including the four-bedroom Brighton, offering 6,326 square feet of living space, and the newly introduced two-story Avignon. Currently under construction, the Avignon will feature multiple alfresco spaces and 5,985 square feet. Both models will overlook preserves and the award-winning championship golf course.
London Bay also offers a boat-in-your-backyard maintenance-free lifestyle and luxury single-family villas in its lakefront Portofino neighborhood at Miromar Lakes Beach & Golf Club. A new fully furnished Carina model is scheduled for completion this March, followed by a new Benita model in April. A third model – the Cilento – is scheduled to start construction this month.
London Bay is the exclusive builder in Portofino, which offers a picturesque setting along 700 acres of contiguous freshwater lakes at Miromar Lakes.
"London Bay is Southwest Florida's preferred luxury homebuilder for a reason," said Cloutier. "We offer great locations, homes that reflect our clients' taste, and a strong reputation built on 25 years in the luxury home market."
London Bay Homes was one of only two companies named America's Best Builder by Builder magazine in 2008 and has received more than 150 architectural awards and another 150 design awards. The company builds luxury homes priced from $1 million to more than $10 million in many of the region's most exclusive neighborhoods and communities. The company also builds private residences on individual homesites in Old Naples, the Sarasota Keys and along the Gulf of Mexico.
To learn more about London Bay Homes and its commitment to Private Label Living, call 239-592-1400 or log onto http://www.LondonBay.com.