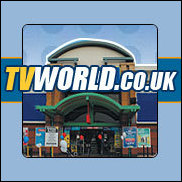 Our huge buying power means that we can offer top quality products at the UK's lowest prices. At the moment our HD Ready 26inch LCD TV with Hitachi Panel at £299 is proving very popular and we expect these buying trends to continue
(PRWEB) March 2, 2007
TV World part of the Digital World group, has launched a site dedicated to flat screen LCD and plasma TVs called tvworld.co.uk.
The http://www.tvworld.co.uk website will offer the full range of flat screen TV models, including Sony, Samsung and JVC and will be the largest dedicated site in the UK. Tvworld.co.uk will take advantage of the company's strong buying power to offer low prices unavailable from many retailers.
The company believe that their expert knowledge will give them the edge over their competitors.
Andrew Noblett, Web Sales Manager for TV World, said: "By specialising just in flat screen TV products, we are able to offer good advice and still keep our prices low. We are a true flat screen specialist which means our experts have the knowledge to offer good advice."
The flat screen TV market is growing year on year with 80% of the estimated five million TVs that will be bought in 2007 predicted to be flat screen models. It is this market need for a specialist retailer that TV World will hope to fulfil.
Noblett continued: "At present a lot of products are sold by general electrical websites who are usually unable to offer specialist advice."
This dedicated and professional approach is already producing significant benefits for the customers. "Our huge buying power means that we can offer top quality products at the UK's lowest prices. At the moment our HD Ready 26inch LCD TV with Hitachi Panel at £299 is proving very popular and we expect these buying trends to continue," said Noblett.
TV World is part of one of Europe's leading flat screen suppliers, the Digital World Group Ltd. It has the widest range of flat screen TV solutions in the UK from all of the leading brands.
TV World has partnerships with Sony, Samsung, LG, Toshiba, Hitachi, Philips, LG, Time, Panasonic, Takapi and Sharp to ensure it can provide a comprehensive range of products to its customers. Because tvworld.co.uk is dedicated solely to selling flat screen TVs and home cinema accessories, everyone from the sales staff to the customer service staff are experts in the products and technology.
###