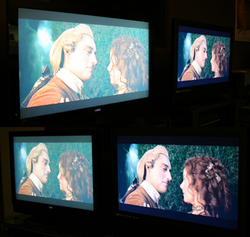 Atlanta, GA (PRWEB) May 20, 2008
LCDTVBuyingGuide.com has completed an extensive evaluation and comparison of current LCD HDTV models from Vizio and Olevia. Several obvious drawbacks were discovered from the models, especially the Vizio.
The Olevia LCD, though not exceptional, bested the Vizio LCD in many categories and received better ratings overall. This was due in part to better color reproduction, dark shadow detail, and black levels in the Olevia. The Vizio LCD had a stunning loss of contrast when viewing from off angle -- bordering on defective in this category. Response time also appeared extremely deficient with gaming content and when viewing fast motion scenes. Read the Vizio vs. Olevia HDTV Shootout here.
# # #