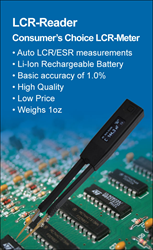 The LCR-Reader is best known for its ability for quick and easy LCR and ESR measurements.
Novosibirsk, Russia (PRWEB) May 29, 2015
Smart Tweezers is a world renowned LCR-meter that offers an easy way of testing and trouble-shooting Surface Mount Devices. Surface-mount technology (SMT) is now a conventional method for electronic manufacturing, where the components (Surface Mount Devices) are mounted onto the surface of printed circuit boards (PCBs).
SMT components are small and have very small contacts, which are too small to be labelled. Thus, it is easy to lose track of parts and their values. Smart Tweezers can be used with only one hand, allowing for quick elevation of all passive types of SMT components, such as Resistors, Capacitances and Inductances. It is a widely recognized professional quality LCR-meter that determines the type of component, and the proper range and signal frequency for the highest accuracy measurement.
"Smart Tweezers gives an ability for a quick and highly accurate evaluation of SMT components," says Michael Obrecht, R&D director at Siborg. "For the ST-5S model, the basic accuracy is about 0.2%. Our goal in this project was to reduce the cost of the required components and PCB complexity and, therefore, manufacturing cost of the device."
Two approaches have been taken aiming at cost reduction: the traditional Smart Tweezers approach using a sinusoidal small-signal test and a response of the measured device to a voltage step signal. The first method has eventually led to the LCR-Reader that had been released in June-August 2013 and is currently priced at about $200.
Further advancements in electronics technology and available ICs allowed for increasing the test frequency to 100KHz, which is very important for small inductances and Equivalent Series Resistance (ESR) measurements. ESR measurements are very crucial for testing high value electrolytic capacitances, both aluminum and tantalum.
The ESR values on aluminum and tantalum electrolytic capacitors with non solid electrolyte can measure up to several ohms. The ESR values also tend to increase with frequency due to the effects of the electrolyte. For aluminum electrolytic capacitors, ESR values increase over time, which can create serious problems. Though these problems are relatively normal as the component ages, large ripple currents or high temperatures can intensify it. This increase can be enough to cause circuit malfunction or even component damage, despite the measured values of the capacitance staying within the tolerance of the circuit.
Higher grade electrolytic capacitors that are rated for high-temperature operation are less likely to become unusable due to an ESR increase. Datasheets show that higher-grade parts are typically rated at a few thousand hours life at the maximum temperature, while a cheap electrolytic capacitor may be rated for less than hours of life at 85°. ESR of capacitors of high capacity (from 1μF and up) that may be problematic, can easily be identified in-circuit using either Smart Tweezers or LCR-Reader as an ESR-meter.
"We tried various circuit designs to implement a higher test frequency, but this causes battery life issues because they drew too much power. But as technology progressed, better Li-Ion batteries and new ICs (integrated circuits) meant we didn't have to forfeit battery life for the higher frequency," says the Team Lead Valentin Litvintsev, at the Institute of Automation and Electrometry of the Russian Academy of Sciences in Novosibirsk.
About Siborg Systems Inc.
Established in 1994, Siborg Systems Inc. is a source of engineering software and hardware tools for semiconductor and electronics industry. Located in the city of Waterloo, Ontario, Canada, it enjoys being a part of the local world-renowned high-tech community.
About Institute of Automation and Electrometry:
The Institute of Automation and Electrometry was founded in 1957 among the first institutions of the Siberian Branch of the Russian Academy of Sciences. Main research directions include: optics and laser physics, interaction of the radiation with structured materials, systems architecture, mathematical models and software for data processing image recognition, analysis and representation of information and control systems for complex dynamic processes.
Contact
Institute of Automation and Electrometry
Academician Koptug ave. 1, Novosibirsk, Russia, 630090
Tel: +7 (383) 330-1239
Fax: +7 (383) 33-38-63
For more information
Siborg Systems Inc. 24 Combermere Crescent, Waterloo, Ontario, Canada, N2L 5B1
Tel: 1 (519) 888-9906
Fax: 1 (519) 725-9522
Web: http://www.siborg.com