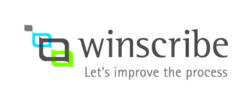 "We've certainly noticed that dictations are turned around much faster than before and with less involvement from ourselves, which means more time for patients."
- Christopher Barbrook, Outpatient Manager at LCR
London, UK (PRWEB) January 11, 2012
Winscribe announced that they have deployed the Dictation Workflow solution, powered by the Winscribe Digital Dictation system, to more than 400 users across eight sites at Leicester County and Rutland Out Patient, Diagnostic and Day Surgery Services (LCR). The solution, which was deployed in under a month, has reduced the time taken to produce and distribute clinical documents, already delivering average time savings of 1,250 hours per month for clinicians and secretaries. The solution was originally deployed by SRC recently acquired by Winscribe.
Christopher Barbrook, Outpatient Manager at LCR, said: "Originally Winscribe were referred to us by a number of other healthcare organisations. We could clearly see the benefits Winscribe deliver to customers and they have quickly transformed the way critical documents are produced across our entire operation. We can now focus more resource on providing high quality health services, safe in the knowledge that the solution is streamlining our dictation and typing environment to meet our time saving and patient service goals."
The system currently manages on average 8,000 dictations every month.
Another key decision to partnering with SRC was the need to simplify the way clinicians and secretaries work. Clinicians can now attach notes to dictations and are also provided with a live view of how dictations are progressing through the typing phase of the workflow.
Barbrook added that clinicians at LCR have also seen benefits: "We've certainly noticed that dictations are turned around much faster than before and with less involvement from ourselves, which means more time for patients."
Secretaries and secretarial teams can quickly see which dictations are urgent, the length of dictation and a range of other identifiers which help them organise workloads and work collaboratively.
Colin Howman, Business Development Director at Winscribe said: "Healthcare organisations are looking to make significant savings using innovative and fresh technologies. We're enthused that Trusts are recommending our solutions and services, which have quickly helped LCR improve efficiencies. We look forward to building our partnership with LCR."
Winscribe's range of solutions, which also include clinical correspondence modules, electronic discharge summaries and handover lists are currently used by more than 90 NHS Trusts.
About Leicester County & Rutland Out Patient, Diagnostic and Day Surgery Services
Leicestershire County & Rutland Out Patient, Diagnostic and Day Surgery Services is part of Derbyshire Community Health Services. Derbyshire Community Health Services NHS Trust provides community-based NHS services in Derbyshire & Leicestershire. This includes community hospitals and 31 health centres across Derbyshire and a number of outpatient services in Leicestershire.Derbyshire Community Health Services was authorised as an NHS Trust on 1 April 2011 and is applying to become a Foundation Trust during 2012.
About Winscribe
Winscribe is the largest supplier of digital dictation technology in the world with installations in 25 countries and more than 350,000 users globally. Winscribe provides solutions for a number of industries including Healthcare, Legal, Law Enforcement, Transcription, Surveying, Insurance and Government sectors and has a widespread global reach with strong customer presence in North America, Europe, Australasia, and South Africa.
Current Winscribe NHS customers include Leeds Teaching Hospital NHS trust, West Suffolk Hospital, Leicester & Rutland, University Hospital South Manchester, East Cheshire Hospital, Liverpool and Broadgreen, St Helens and Knowsley, Whipps Cross, Peterborough, University Hospital North Staffs, South Warwickshire, Coventry, Barnsley, Walton Centre, Merseycare MHT and Royal National Bath amongst many others.
###