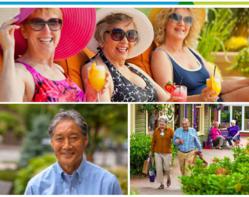 Greater awareness of, and adapting to consumer preferences is critical to success in the field of senior living.
Des Moines, Iowa (PRWEB) October 22, 2012
Continuing care retirement communities (CCRCs) must expand their standard offerings to satisfy a new generation of consumers.
That's the conclusion of 'The CCRC Consumer of the Future', a new paper released by LCS, a leading provider of high quality senior lifestyle services.
LCS senior living professionals analyzed three industry studies on senior lifestyle and housing preferences and determined how these findings will shape the look, feel and offerings of tomorrow's CCRCs. The paper suggests that CCRCs may need to introduce unconventional approaches in their standard operations to attract future consumers—which includes members of the Baby Boomers generation.
According to the report, CCRC consumers are now looking for:

Features, programs and services that support their continued independence and active lifestyles.
Residences that are close to music, the arts and cultural offerings—and also bring the outside world into the community.
Communities that emphasize sustainability and "green" practices.
Individualized programs of wellness and healthcare, along with more choices in the care that is offered.
In addition to providing a profile of consumers, the LCS report also offers CCRCs suggestions for adjusting their programs and services to meet the changing market, adapting traditional building designs to new consumer preferences and expanding services to form relationships with seniors living outside the community.
To download a copy of 'The CCRC Consumer of the Future' report, go to LCS's newly redesigned and consumer focused website at LCSnet.com.
About LCS™
Based in Des Moines, Iowa, and established in 1971, LCS is a leading provider of high-quality senior lifestyle products and services. The LCS Family of Companies focuses on planning and development, operations management, marketing and sales management for continuing care retirement communities (CCRCs) and senior living communities, home health care and companion services, senior living community ownership, insurance, and national volume purchasing. The companies of LCS serve over 29,000 residents in 31 states and the District of Columbia. LCS is an equal opportunity employer hiring skilled and professional employees to better serve the customer. For more information, visit LCSnet.com.