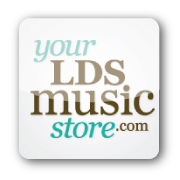 Every Friday, visitors who sign up for the yourLDSmusicstore newsletter, receive free MP3 music downloads.
Salt Lake City, UT (PRWEB) December 31, 2012
A new web site that delivers an online LDS radio station, a family-friendly blog, and music content to LDS audiences around the world – http://www.yourLDSmusicstore.com – has just been launched.
The all-in-one site was designed to make it easier for the world-wide LDS Church community to find positive music with more than 9,000 selections of CDs. This includes 630 albums, songbooks and sheet music, along with click-through access to yourLDSsradio.com. In addition, visitors can enjoy the yourLDSblog.com with recipes, FHE ideas, and inspirational message.
Every Friday, visitors who sign up for the free newsletter, receive free MP3 music downloads.
Gaylen Rust, CEO of R Legacy Entertainment, said yourLDSmusicstore.com was the "next logical step in our vision of bringing more music products to customers in a digital environment. An important part of our strategy is our continual search for the next generation of musical talent and promoting them through our various channels."
The new site was designed for convenient navigation with products grouped around popular categories such as songbooks, EFY, hymns, etc. The 9,000 music offerings are listed under genres for quick access and top artists have separate listings.
yourLDSmusicstore.com replaces PositiveMusicandDownloads.com which exclusively carried CDs, songbooks and sheet music. As of Oct. 26, the new site had 10,000 loyal newsletter readers and recently, there were over 750 unique visitors to the web site in one day.
yourLDSradio.com will start its fourth year of operation in November and has been regularly ranked as the number one or two online station in the nation in the inspirational music category. The station has listeners in 156 countries around the world.
About yourLDSmusicstore.com
Originally launched as PositiveMusicandDownloads.com in 2008, yourLDSmusicstore.com has an extensive library of LDS music options. The site is dedicated to providing clean, positive music for the worldwide LDS community. In addition to CDs and songs, yourLDSmusicstore.com offers a selection of LDS sheet music, songbooks, and EFY materials including minus tracks and accompaniments. Catering to a variety of music needs, the site has a broad array of products for everyone from Primary children to the Ward Trek.
Music can be conveniently downloaded to an MP3 device or purchased as a CD. yourLDSmusicstore.com has click-through access to yourLDSradio.com. yourLDSmusicstore.com is committed to promoting and developing musicians throughout their career. Aspiring musicians are encouraged to submit demos for evaluation. Among top artists currently under contract with R Legacy Entertainment and yourLDSmusicstore.com are the Nashville Tribute Band, Katherine Nelson, William Joseph and Daniel Beck.