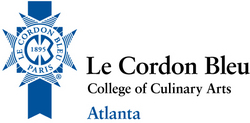 It is my personal mission to help our students define and develop their careers by sharing my skills and knowledge
Tucker, Ga. (Vocus) June 26, 2008
Le Cordon Bleu College of Culinary Arts Atlanta announced today that Executive Chef Todd Kazenske CEPC, AAC, was recently recognized by the American Culinary Federation (ACF) Atlanta Chapter as the 2007 Educator of the Year. Kazenske, a chef instructor at the Atlanta culinary school since 2003, was promoted to Executive Chef of Le Cordon Bleu College of Culinary Arts Atlanta and oversees a faculty of 45 and a student population that exceeds 700.
Kazenske was recognized during the ACF Greater Atlanta President's Gala Awards Dinner on April 7.
"Chef Kazenske is one of our most valuable assets," said Peter Lee, college president, "as it is his leadership, expertise and commitment which provide our students with a solid foundation for a career in the culinary industry."
According to ACF, the Educator of the Year award pays tribute to an active culinary educator whose knowledge, skills, expertise, guidance, and direction have enhanced the image of the professional chef and who, by example, has given leadership, guidance, and direction to students seeking a career in the culinary profession.
"It is my personal mission to help our students define and develop their careers by sharing my skills and knowledge," said Kazenske. "I am honored to join this league of educators."
With a background of owner/operator, retail, catering, restaurants, resort hotels, convention hotels, and private clubs, Kazenske has worked with Executive Chefs and Executive Pastry Chefs from Germany, Switzerland, Austria, France, Italy, Holland, Hungary, Africa, Asia, Puerto Rico, and the U.S. He is currently working on his Certified Culinary Educator (CCE) certification and, in July 2007, was inducted into the American Academy of Chefs, an honor society for The American Culinary Federation.
About Le Cordon Bleu College of Culinary Arts Atlanta
Le Cordon Bleu College of Culinary Arts Atlanta offers students one of the most intensive, practical, and comprehensive training programs in the field of culinary arts. Le Cordon Bleu College of Culinary Arts Atlanta (LCB Atlanta) is an affiliate of Le Cordon Bleu Schools North America network which was established in 2003 to bring the esteemed Le Cordon Bleu Culinary Programs to the Atlanta area. Its association with Le Cordon Bleu Paris represents a union of some of the finest in European and North American culinary arts training programs available today. The educational programs at LCB Atlanta are designed to prepare students for professional opportunities and rewarding careers in the international food-service industry. Each student receives a comprehensive, challenging, hands-on education in the classic and modern culinary arts. The professional faculty at LCB Atlanta guide students through theoretical concepts and practical and creative applications of culinary techniques. Le Cordon Bleu College of Culinary Arts Atlanta is a member of the Career Education Corporation (NASDAQ:CECO) network of universities, colleges and schools. For more information, please visit http://www.atlantaculinary.com .
Media Contact:
Mollie Cole
847.851.7569
mcole @ careered.com
# # #