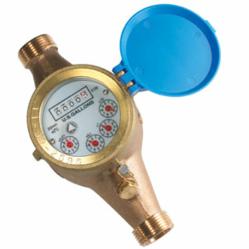 WM-LF water meters are used in transition to no-lead water supply systems.
Nazareth, PA (PRWEB) February 20, 2013
Flows.com, an online distributor of flow meters, is committed to assisting customers transition to no-lead water supply with its new WM-LF Series Lead Free Bronze Multi-Jet Cold Water Flow Meter.
Most people take their water supply for granted and assume that the water coming from their faucets is safe. Yet many state health departments warn residents to let the water run and get the lead out before drinking, and to use only cold water for drinking or cooking to minimize lead exposure. Lead in water can be a special problem for infants whose diets may be a mixture of baby formula powder and water. Lead can appear in water from corrosion of materials containing lead in household plumbing
Several states have recently adopted stricter regulations regarding pipes, valves, fittings and plumbing fixtures used in potable water to minimize lead exposure, including California, Vermont (Jan 1, 2010), Maryland (Jan 1, 2012), and Louisiana (Jan 1, 2013). And the Reduction of Lead in Drinking Water Act establishing new federal standards goes into effect on January 4, 2014.
These regulations reduce the allowable lead content of wetted surfaces for all plumbing that supplies the water. No longer will plumbers be permitted to install leaded components for potable water systems, with a few exceptions.
The WM-LF Series Lead Free Bronze Multi-Jet Cold Water Flow Meter
The WM-LF lead-free bronze water meters have proven to work reliably and accurately under a wide flow range and can tolerate low quality water. Its NPT male connection makes it easy to fit into standard 1/2", ¾", and 2" piping.
The WM-LF lead free meter is used in residential and commercial systems for metering and sub-metering. It is also used in industrial food and beverage, plant process water, cement mixers, and pond water feed lines.
Features & Benefits

Dry Top Multi-jet Design simple, accurate, wide flow range, tolerates low quality water
Simple Reed Switch Pulse Output (optional) pulse rate easily changed in the field
Hinged Lens Cover protects display and register
Calibration Plug Seal Wire to reveal tamper evidence
Union End Couplings for easy service
Magnetic Drive eliminates potential leak point
Easy to Read Register Display odometer and needle dial have large clear digits
Low Flow Indicator shows flow rates down to almost drop by drop, great for leak detection
Versatile Installation Orientation can be installed horizontally or vertically
Meter Made in America
Materials

Body: Lead Free Cast Bronze (C89833 bronze alloy)
Internals: Engineered thermoplastic
Connection Sizes Available

Flow Rates Available

0.13-132 GPM (0.5-500 LPM)
Specifications

Max. Temperature: 105° F (40° C)
Max. Operating Pressure: 150 psi
Accuracy: +/- 1.5%
Pulse Output Specifications

Sensor Type: Dry Contact Reed Switch
Max. Current: 20 mA
Max. Voltage: 24 Vdc or Vac
Cable Length: 12' (standard) 2000' max. run
The WM-LF Lead Free Water Meters are available for purchase online at http://www.flows.com/wmlf-lead-free-series/ . A datasheet and schematic diagram and Installation and Maintenance manual are also available.
For more information contact Mike Farrell at mikef(at)aa-fs(dot)com, or 800-899-0553.
About Flows.com
Flows.com, a division of Assured Automation, is dedicated to the distribution of flow related products and is located in Nazareth, PA. Assured Automation is a privately held company that sells automated valves, actuators, flow meters, and valve accessories. Headquartered in Clark NJ, Assured Automation's customers include original equipment manufacturers, resellers, and end users. Their products are used for fluid and gas applications in air drying, pollution control, process control, laundry equipment, textile dyeing & drying, bottling & dispensing equipment, ink & paint dispensing, industrial compressors, and others. For more information contact Assured Automation at 800-899-0553, by e-mail at info(at)assuredautomation(dot)com or visit http://assuredautomation.com