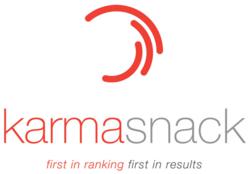 First in Rankings, First in Results
Miami, FL (PRWEB) June 01, 2011
The product is set. The services are ready. Business is ready to begin. Now, where are the customers? Karma Snack is offering a new targeted Lead generation solution to get the right customers. The best products and services can fail without targeted and productive marketing. Karma Snack is unveiling their Lead Generation Dynamic SEO 2.0 built in last years Dynamic SEO module that Karma Snack has used to gain the upper hand for their clients.
In business, it is essential to partner with an experienced social media agency, to assure the business will achieve profitable recognition in the marketplace. Karma Snack's new lead generation platform is based on specific criteria, designed to attract the audience that will produce the most profitable result for the company. Working on this formula for lead generation for over 2 years, the Karma Snack team has created a lighting fast module that can be plugged into any website and dynamically correct lead generation problem, and over time increase the conversion rate of a website but self optimizing the site. The module currently works on website in a linux environment, with scheduled modules to move into an ASPX environment.
If the customer wants gadgets, a company selling widgets will not do. Targeted marketing is essential for business results. Karma Snack is the premier website SEO company because of their expertise in attracting exclusive leads.
As an acclaimed service provider, Karma Snack delivers effective internet marketing that integrate new state of the art technologies seamlessly into pre-exist website design. Based on their experience with worldwide companies, clients will receive exclusive leads to suit its specific needs with this new technology.
Karma Snack specializes in marketing consulting that gets results. The Karma Snack team delivers creativity designed to meet the business's particular goals. At Karma Snack 'our mission is to fulfill your mission' is more than a slogan. Online or offline, Karma Snack will customize a digital marketing plan to suit their clients and exceed their expectations.
In addition to Karma Snack's new effective lead generation services, they offer digital marketing and PPC management services. Karma Snack is a social media marketing agency recognized for outstanding achievements.
With over 1200 Profitable Campaigns to date, The Karma Snack Team has received over 67,000 First Page Rankings for their clients on Google. Karma Snack techniques are able to drive traffic to specific businesses with data driven searches that produce quality lead generation.
Karma Snack has been given the Front Page for marketing services on Google, Front Page for Miami SEO and Front Page for Internet Marketing Services by Google.
Karma Snack has helped their clients to generate over 60 million dollars in revenue in 2009. Karma Snack increased the revenue for clients to 100 million dollars in 2010. Based on their digital marketing expertise, individual marketing consulting techniques and specialized project management, clients can be sure to increase their return on investment with Karma Snack.
Voted #1 Miami SEO company by Top SEO, Karma Snack has earned the Top 20 Nielsen.net rating because of their proven expertise in choosing the right website SEO for their clients. Karma Snack guides clients with specialized marketing services through four different website format choices to serve individual company's needs. Karma Snack is able to devise the best methods to execute the best plan for their clients. The e-commerce website, the Lead Generating website, the Branding Website and the Informative Website format each serve a specific need.
Finding the target audience and drawing in traffic to attract new customers, the Miami web design company Karma Snack has consistently proven themselves capable of developing the most up-to-date methods for executing the strategy that meets the budget and hits the target.
From mobile devices and gaming tools to elaborate media and video productions, Karma Snack offers the lead generation to promote their client's business. The worldwide consulting team of Karma Snack has successfully worked with companies in retail, media, financial services, technology, travel and the automotive industry. Take the time to find out what Karma Snack can do for business growth.
Whether the business is just getting started or the company is trying to create a new image or revive the goals and dreams that started the company, Karma Snack has a team of experts ready to work with the company. Let Karma Snack design the plan that will produce the best results.
Karma Snack will promote the company's image, deliver the company's message, reach the target audience and help to expand the company's client base to generate profits for years to come. Whether there are concrete ideas for company expansion or the company needs extensive guidance to pull its ideas together, Karma Snack can work with management to devise the most profitable plan of action to meet the company's specific needs.
Visit the Karma Snack's website to see the results that a top performing website can bring to any business.
###