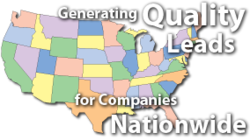 We are very fortunate to be running a business that helps companies harness the power of the internet and grow their businesses without risk with our proven pay for performance model
Snellville, GA (PRWEB) September 04, 2011
Leadsbyfone LLC, a marketing and lead generation company based in Snellville GA, announces the launch of its newest verticals: the tree care and landscaping industries.
Founded in 2008 by CEO and Managing Partner Paul Robinson, Leadsbyfone quickly established itself as one of the leaders in the lead generation market with its success serving the water damage restoration industry.
What began as a small business with just a few clients rapidly turned into a nationwide venture with over 220 clients. The simple concept was reflected in the company slogan "we get the leads, you get the business!". For each client, an aggressive marketing campaign is set up through online content, page ranking, and advertising, all designed to drive business to the client, who pays a fee for each lead provided.
Only a certain number of customers are booked for each geographic area in order to prevent spillover into competing customers' territories. Leads are also targeted to one provider, instead of the usual approach of submitting the lead to several providers and allowing them to squabble over it.
In the last year, Leadsbyfone's business has nearly doubled, with 2011 seeing a six month procession of record months, both in terms of leads generated for clients and the company's profits. Robinson determined the time was right to take the Leadsbyfone business model into other avenues.
"When you have something that works this well in one venue, you know it will apply equally well in other similar, service based industries", said Leadsbyfone Content Director Billy Ritchie. "The vast majority of our customers see a significant increase in their business as a result of their partnership with Leadsbyfone."
The Leadsbyfone model was based on the premise that business owners, while proficient in their chosen field, are not necessarily sales people or marketing gurus. Having a system in place to drive leads to their company allows them to focus more on running and growing their business, without the daily headaches of marketing and promotional campaigns.
Leadsbyfone is a Pay For Performance Service, meaning clients only pay for calls from prospects actively seeking their services. They provide a website, advertising on Google, MSN, and Yahoo, with high organic rankings.
CEO Paul Robinson says "We are very fortunate to be running a business that helps companies harness the power of the internet and grow their businesses without risk with our proven pay for performance model."
The newest Leadsbyfone verticals can be accessed at http://www.local.landscaping.com and http://www.treecarelocal.com.
###